What is Composite Decking?
By Colby Coward / April 1, 2020
---
Estimated reading time: 7 minutes
Composite decking is taking the outdoor decking industry by storm. It is quickly becoming the largest alternative to timber on the market, and for good reasons. With longer lifespans and much lower maintenance than wood decking, it is deemed the most durable material on the market today. But what is composite decking, and why are so many homeowners so eager to use it?
What is Composite Decking?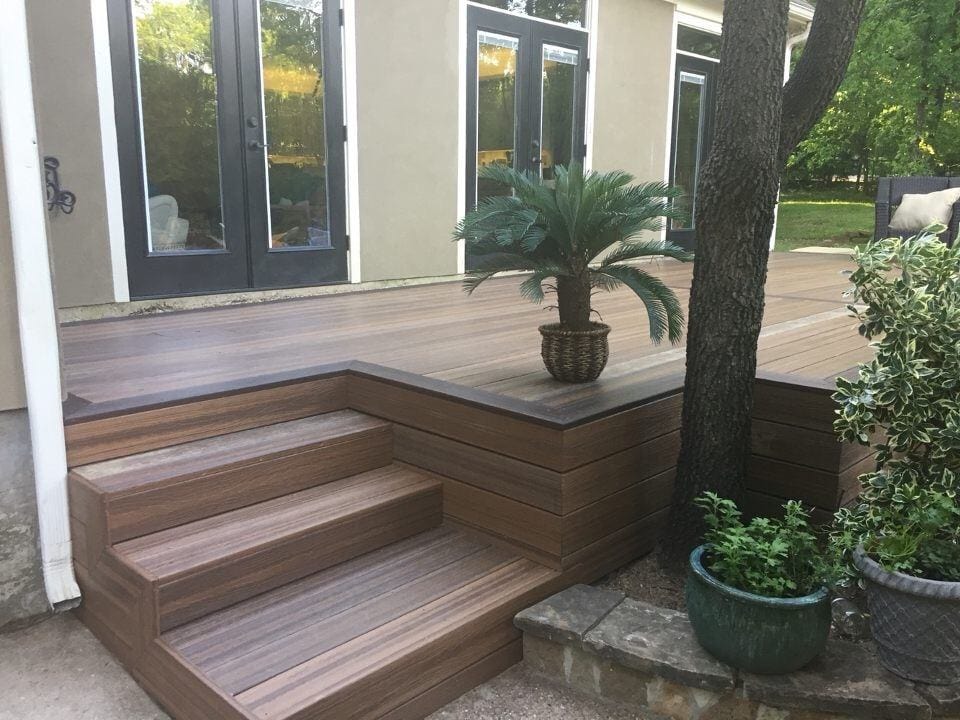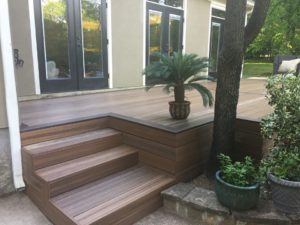 What is Composite Decking? 
Composite decking is a man-made product typically made from a mix of recycled plastic and wood fibers. The plastic elements, often derived from materials like milk jugs and soda bottles, are what give composite decking its long-lasting durability. These materials are then heated, processed, shaped and cooled to create boards and give it a similar appearance to wood. The upfront cost of composite decking materials tends to be higher than those of traditional wood decking. Their ability to easily withstand years of use with minimal upkeep and maintenance, however, makes them a top choice for many homeowners today.
Composite Decking Advantages
One of the biggest advantages of having a composite deck is having a product that will last a long time. In fact, it has been known to last up to 20-30 years longer than traditional wood decks! Composite decking is virtually maintenance-free. Just a quick rinse with some warm soapy water and your deck is ready for use. While composite materials may cost more than wood, they don't require any sanding, staining, refinishing, or scraping. And, because of their plastic content, the boards are much more durable to rot, insects, and moisture. They tend to last much longer than wood decks without needing the same amount of care, so you're paying more now for less work later. 
Composite materials are UV resistant, which means they don't fade and can easily retain their original color for years. The boards never have to be sealed, stained, or painted, and they won't warp or crack, even in direct sunlight. They are also splinter-free, and have very minimal water absorption, making them slip resistant and the perfect material to put around pools and other outdoor areas with heavy traffic.
Types of Composite Decking
Unlike wood, the composite decking material is available in several varieties, colors, and styles that will add the perfect feature for your outdoor living space. Over the years, advancements have been made in how composite decking materials are constructed. These advancements have opened the door to many more possibilities and options that most homeowners did not have before. 
Solid vs. Hollow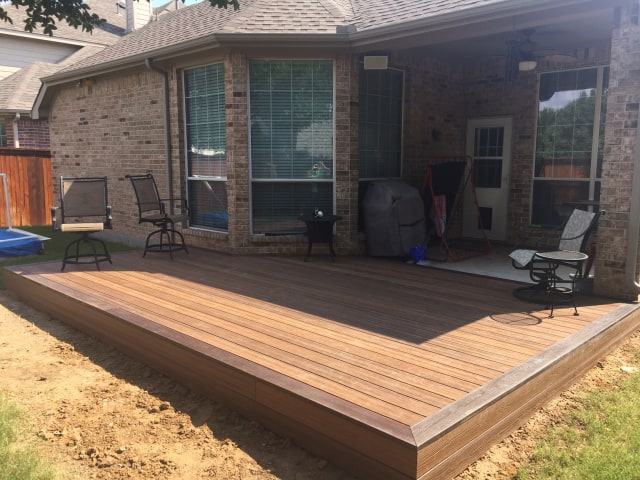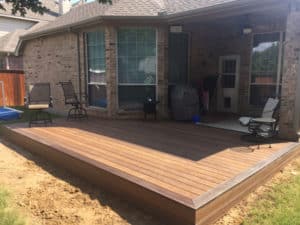 When choosing your decking material, you'll have the option between solid or hollow boards. As the name suggests, solid boards are made from solid material. They come in many grain variations and tend to look more like real lumber traditionally used on decks. If you plan on utilizing heavier items such as hot tubs, grills, and furniture, solid boards are a great choice. Because of their more dense construction, they are capable of withstanding a considerable amount of weight.
Hollow boards have a tunnel-like design running through the center of the plank, causing them to be lighter in weight. This makes it much easier to transport and position the boards as you begin to design and build your deck. While they do look more manufactured than solid boards, hollow boards can also tend to look more uniform. If you live in an area that is humid or has harsh changes in weather conditions, hollow boards may be your best option. Because of their hollow construction, they are less affected by outdoor elements. This gives them the ability to expand and contract with heat, cold, and moisture. Don't like the look of the hollow tracks at the end of your boards? Most companies sell end caps to cover them, providing a much more finished, put-together look.
Capped vs. Uncapped
Uncapped boards are typically seen as the first generation of composite decking boards. While they are still available through most companies, they aren't always a homeowner's first choice. Over time, advancements in the construction of decking materials have made uncapped boards slightly less sought after. They tend to be nicer on your budget than capped boards, but they are also much more vulnerable to the outdoor elements. While they are still long-lasting, uncapped boards don't come with the same protection against fading and staining as capped boards.
Capped boards are wrapped in a protective PVC cap that offers excellent resistance and protection from mold, scratches, stains, and fading. Given their protective outer layer, they tend to be longer-lasting than uncapped boards, allowing their color and beautiful look to withstand years of wear and tear.
Learn More: Cedar Decking vs. Composite Decking
Installation
The installation of composite decking uses the same techniques and methods as the installation for a traditional wood deck. Most composite decking materials, however, have grooves and hidden fasteners that can be slipped in between the boards. This makes the overall process both easier and significantly faster.
Taking Care of Your Composite Decking
Perhaps the biggest benefit of choosing composite decking over the traditional wood decking is that it requires far less maintenance. Taking care of your composite decking is much easier and less labor intensive than taking care of your wood decking. However, even though composite decking is low maintenance, there are still several things you can do to prolong its life and keep it looking new for years to come.
Regular and Consistent Maintenance
Regular deck maintenance is one of the most important things to do when it comes to taking care of your composite deck. Schedule your deck's maintenance in your seasonal calendar to make sure you keep up with it on a regular and consistent basis.
Simple Cleaning
If your composite deck just needs a cleaning to help get rid of dirt and foot-traffic marks, a little detergent and water will do the job. Simply spray the deck with a mild detergent, gently scrub each board with a soft brush, and spray it away with the hose. Not only will this help extend the life of your decking material, but it will also help keep it looking as good as new.
Rinse Thoroughly
Whether you're rinsing dirt, soap, or other unwanted debris from your deck, be sure to rinse it thoroughly. This will help prevent build-up over time, protecting the decking material and making your job much easier down the road.
Remove Dirt and Debris
Removing dirt and debris from the gaps between your deck boards is a simple and easy way to maintain the condition of your deck. Keeping it clean will help prevent dirt and leaves from building up over time, preventing water from running off and draining properly when it rains.
Use Gentle Cleaning tools
When brushing or sweeping anything off of your deck, always use gentle tools such as a soft brush or broom, a rubber-tipped shovel or scraper, to avoid scratching your deck boards.
Protect It Against Moisture
There's not much you can do about rain and snow getting on your deck. It is outside, after all. But to help protect it from absorbing excessive moisture, clean it with a cup of chlorine bleach added to a gallon of detergent and water.
Use Deck Brightener
To remove scuff marks or stains left from leaves, a deck brightener that contains oxalic acid will bring back the original shine you fell in love with when you first built it.
Things to Avoid
Contrary to what you may think, power washing is not a good or effective way to clean a composite deck. This process can alter the material's surface and could even potentially end up voiding your warranty. When washing your deck, avoid harsh chemicals and stick with a mild detergent. As mentioned earlier, always use gentle tools to avoid scratching the surface of your deck.
When it comes to picking the right decking materials for your project, an outdoor contractor can help answer all of your questions and point you in the right direction.
Request an Estimate Today
Now that you're thinking of the main types of outdoor structures
and their uses, you can create a concept that works for your
family. Keep in mind the purpose of the structure, whether natural
light in your home is a factor, and where you want the focal point
of your backyard to be. Once your gears get turning, reach out to
request an estimate on your concept.