In North Texas, a homeowner's use of their backyard space is often determined by the weather outside. Texas Best Fence & Patio will help you create a patio cover that will transition from the inside of your home to the wide open spaces and fun in your backyard, even when the weather isn't perfect.
That Can Change Your Life
Similarities and Differences
One difference between arbors and pergolas and patio covers is that these structures are attached directly to the house or at least constructed in such close proximity to the perimeter of the house that you can step outside and enjoy the cool shade without ever being in direct sunlight. Another difference is that most of the patio covers are constructed with a solid roof that protects not only from the sun but also from inclement weather such as rain, making the patio area much more useable nearly year-round, even in the North Texas area.
Like freestanding arbors and pergolas, patio covers can add to the interest of your landscape and increase property values, making them winning additions to a home—whether you plan to live in it for years or sell later for more than you ever may have dreamed possible.
However, the most important similarity is the structural stability and quality with which we construct patio covers, arbors, and pergolas. Our work lasts, which should be the biggest reason a homeowner wants Texas Best Fence & Patio to build everything around their home. Our structures are built with care and detail that truly make a difference.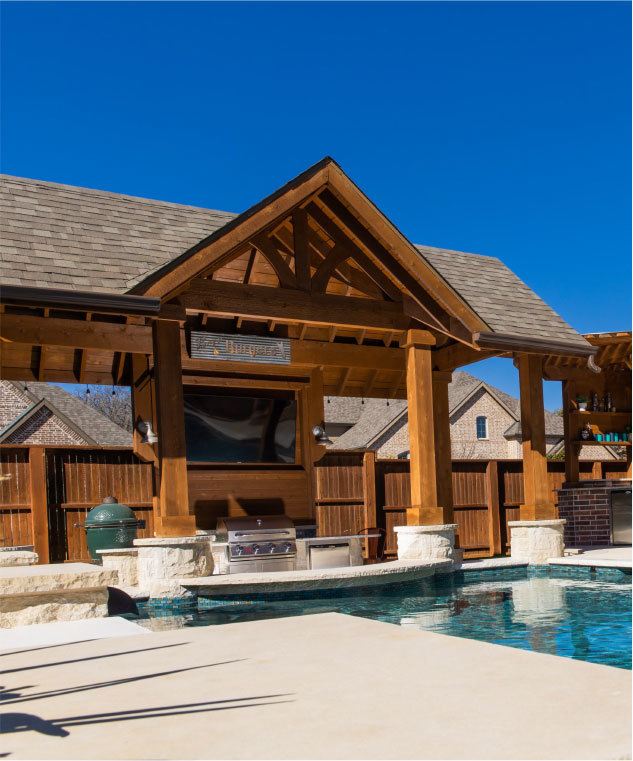 Browse our photo gallery for inspiration and ideas. We have over 20 years of experience making backyard dreams become a reality.
Here are a few common questions about patio covers
A patio cover is attached to a home for shade and protection, while a pergola is a standalone structure for entertaining. Patio covers have either solid or lattice roofs and are typically built over back doors. Pergolas have crossbeams and an open or lattice roof, used to designate a space for entertaining.
To have us look at your possibilities, give us a call at 972-210-2460 and set
up an appointment for a free consultation and estimate at your home.