Create an Outdoor Living Space for Football Season
By Colby Coward / August 7, 2023
---
Table of Contents
Transforming Your Backyard into a Football Fan's Paradise
As the anticipation of football season builds, it's the perfect time to create an outdoor living space that will be the talk of every fan in your neighborhood. This isn't just about setting up a TV outside; it's about creating an immersive experience right in your backyard. From the roar of the crowd through your sound system to the smell of burgers on the grill, every aspect of your outdoor space can echo the exhilarating atmosphere of the game. This transformation involves careful planning and construction, but the result is a space that enhances your home's value and your enjoyment of the game.
The Heart of the Space: Your Outdoor Kitchen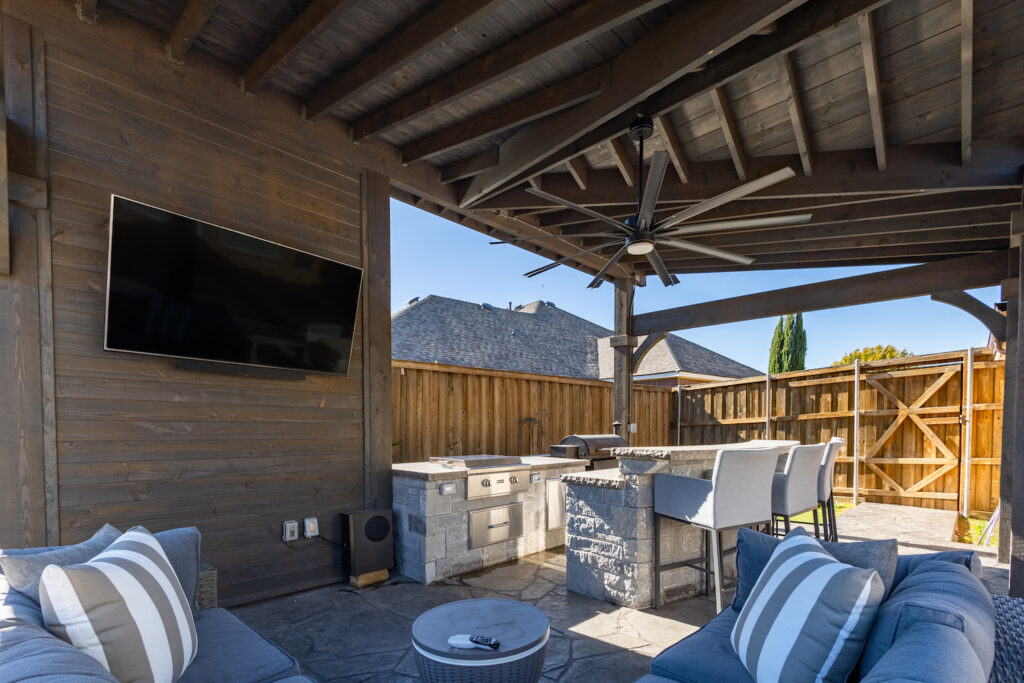 When you create an outdoor living space, the outdoor kitchen becomes the heart of your football gatherings. This is where the delicious game day meals and snacks come to life. Whether it's a simple grill for barbecuing hot dogs and burgers or a full-fledged kitchen complete with a fridge, sink, and even a pizza oven, this is where you'll fuel the excitement of the game. An outdoor kitchen keeps you in the heart of the action, even when it's time to flip burgers or refill drinks. Constructing an outdoor kitchen involves choosing the right appliances, setting up safe and efficient utility lines, and creating a layout that facilitates easy movement and social interaction.
Warm Up the Crowd with a Fire Feature
A fire feature is a game-changer when you create an outdoor living space. A fire pit or an outdoor fireplace not only provides warmth on those chilly game nights but also adds a touch of elegance and a cozy gathering spot. Imagine your guests huddled around the fire, sharing stories and discussing game strategies during halftime. Constructing a fire feature involves careful planning to ensure safety and efficiency. You'll need to choose the right materials that can withstand high temperatures, decide on the size and location that best fits your space, and ensure proper ventilation.
Light Up the Night
When you create an outdoor living space, lighting is key. As games often run into the evening, you'll need ample lighting to keep the party going. Consider installing LED string lights for a festive vibe, or outdoor lamps for more direct light. You can even explore options like solar lights or motion sensor lights for added efficiency and convenience. Proper lighting not only enhances the ambiance but also ensures safety by illuminating walkways and steps.
Cover Up with a Patio Cover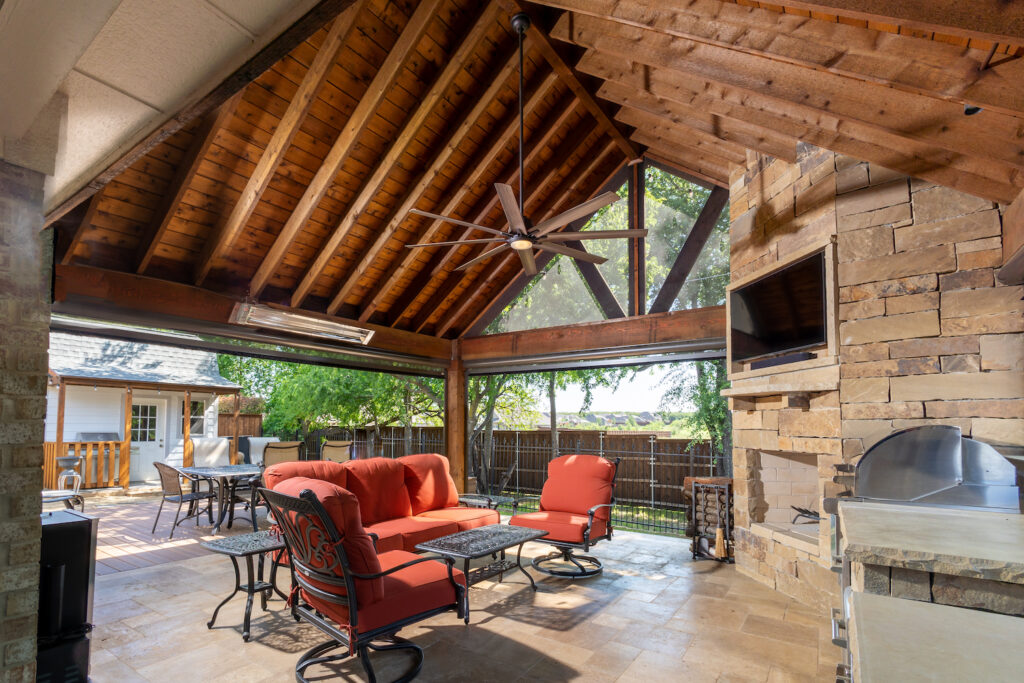 A patio cover is a must when creating an outdoor living space. It provides shade during daytime games and protects your guests and your outdoor furniture from unexpected weather changes. Plus, it defines your outdoor dining and viewing area. Constructing a patio cover involves choosing the right materials that can withstand your local climate, designing a structure that complements your home's architecture, and ensuring it's securely installed for maximum durability.
Create a Space to Gather, Dine, and Watch the Game
The ultimate goal when you create an outdoor living space is to make a comfortable area where people can gather, dine, and watch the game. Invest in durable, comfortable outdoor furniture. Ensure every seat has a good view of the big screen. Remember, this is more than a backyard; it's your personal stadium. Creating this space involves thoughtful layout planning, choosing furniture that withstands outdoor elements, and setting up a viewing area that offers a clear, unobstructed view of the game.
Create an Outdoor Living Space for Unforgettable Football Seasons
Creating an outdoor living space for football season is about more than just watching the game; it's about creating shared experiences that outlast the season. It's about enhancing your home's value and your quality of life. With careful planning, quality construction, and attention to detail, you can transform your backyard into a football fan's dream. Texas Best Fence & Patio transforms spaces into beautiful outdoor havens, enabling you to enjoy every part of your home.
Ready to transform your backyard into the ultimate outdoor living space for football season and beyond? Contact Texas Best Fence & Patio today! Our team of experts is ready to help you design and construct a backyard that scores big all year round. Click here to schedule your free consultation!
Embrace the Outdoors: Your Backyard for All Seasons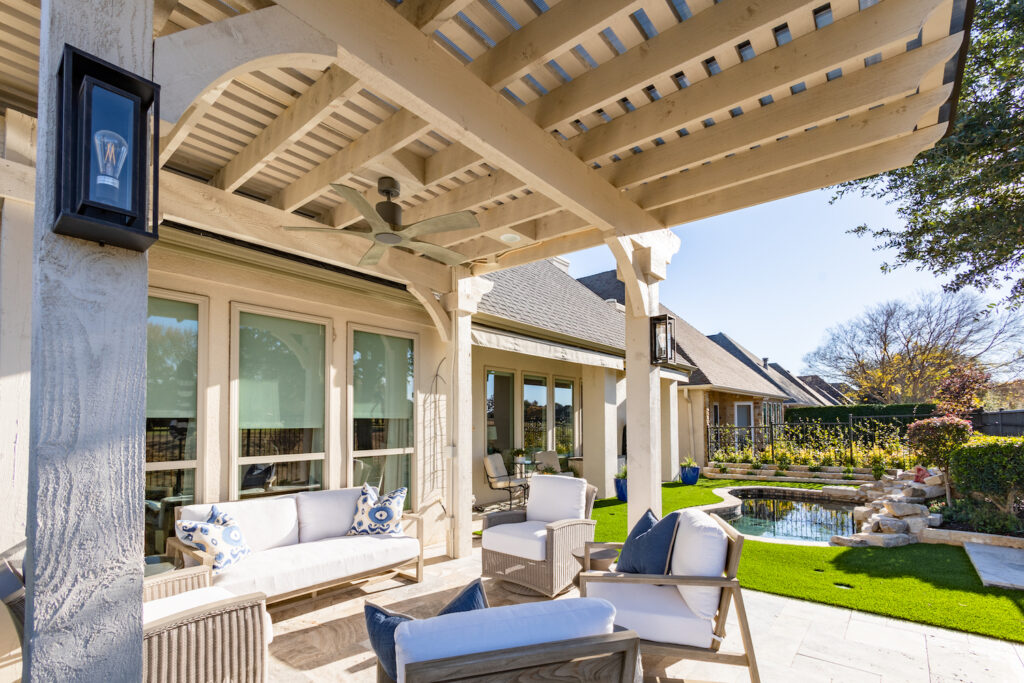 While creating an outdoor living space for the football season is exciting, the true beauty of your backyard is its potential for year-round enjoyment. Imagine cozy winter nights by the fire pit, roasting marshmallows and sipping hot cocoa under the stars. Envision spring afternoons, the air filled with the scent of blooming flowers as you lounge on your patio, book in hand. Picture summer barbecues, the sound of laughter echoing as you grill burgers in your outdoor kitchen. And, of course, the thrill of fall football watch parties, cheering for your team in the comfort of your own backyard. With thoughtful design and quality construction, your outdoor living space can adapt to each season, providing endless opportunities for relaxation, entertainment, and making memories. So, don't limit your backyard to just one season. Embrace the outdoors all year long, and make your backyard a true extension of your home!
Request an Estimate Today
Now that you're thinking of the main types of outdoor structures
and their uses, you can create a concept that works for your
family. Keep in mind the purpose of the structure, whether natural
light in your home is a factor, and where you want the focal point
of your backyard to be. Once your gears get turning, reach out to
request an estimate on your concept.