How to Build an Outdoor Kitchen: A Step by Step Guide
By Colby Coward / December 17, 2021
---
An outdoor kitchen can be a fantastic addition to any home, especially if you enjoy cooking and entertaining guests. Outdoor kitchens provide a practical way to entertain guests while enjoying fresh air and sunshine by cooking and serving meals. Additionally, an outdoor kitchen can add significant value to your home and increase its appeal to potential buyers.
If you're looking to build an outdoor kitchen, you might feel overwhelmed with all the planning, designing, and construction involved. With the right contractor, preparation and this guide, building an outdoor kitchen can be a rewarding project.
Table of Contents
Step 1: Consult with a Professional Outdoor Living Contractor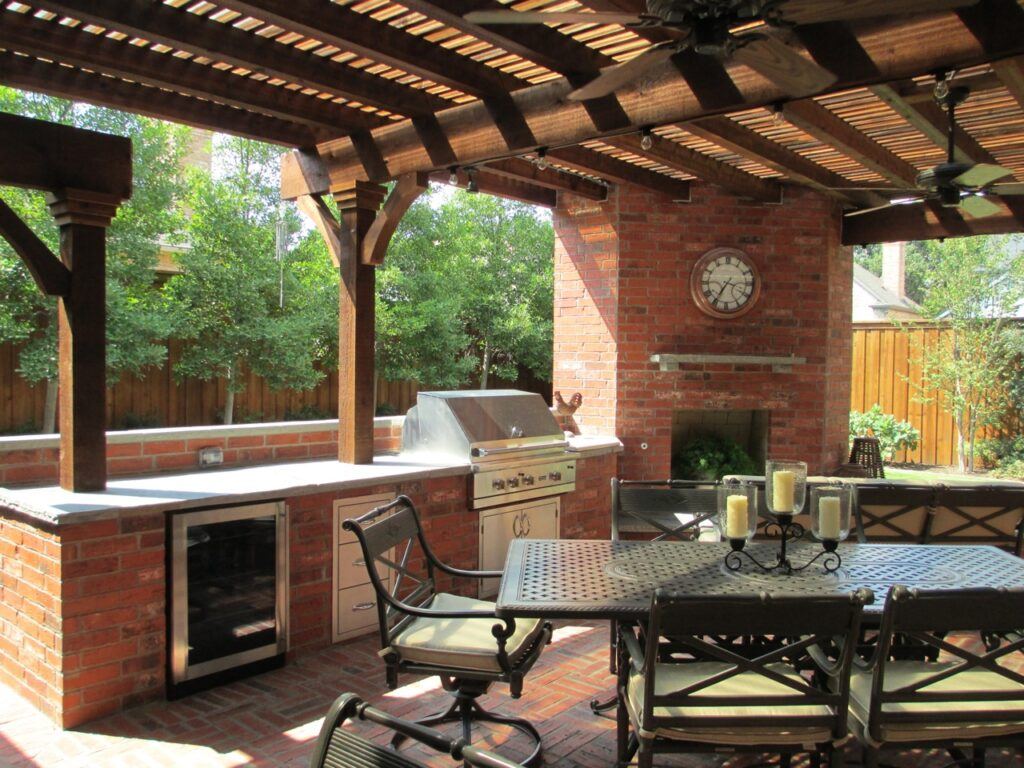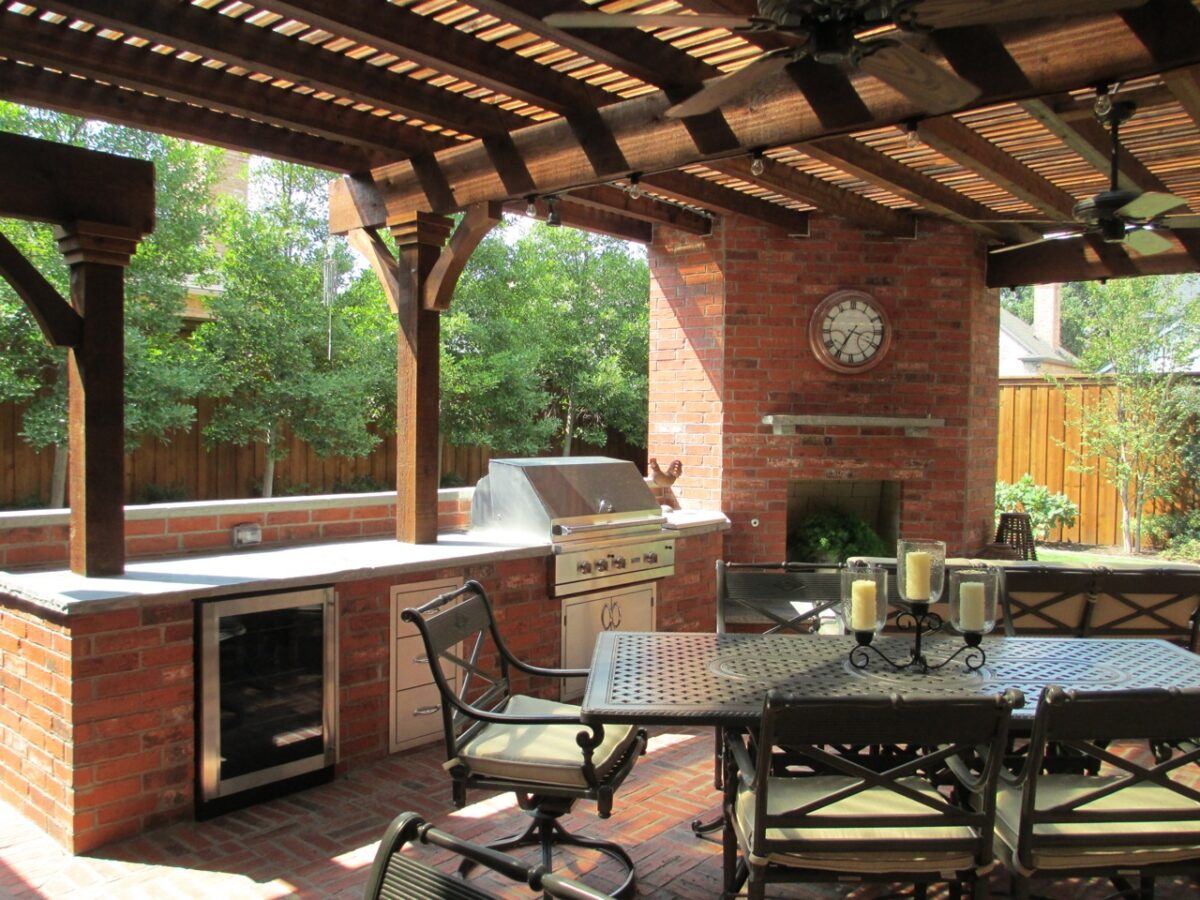 The first step in building an outdoor kitchen is to consult with a professional outdoor living contractor like Texas Best Fence and Patio. A contractor evaluates your outdoor space, preferences, and budget to design an outdoor living space that suits your lifestyle.
Your contractor will ask about outdoor kitchen usage, appliance preferences, style, and materials during the consultation. Based on your answers, they will design based on your answers, considering space, home style, functionality, and budget.
Step 2: Choose the Right Location for Your Outdoor Kitchen
The next step is to choose the right location for outdoor kitchen. The location should be determined based on various factors, including the design, existing features in your yard, and any potential zoning or building regulations.
Your contractor can assist in this process by assessing your outdoor space. They can recommend the best location to ensure that it meets all requirements and complements the rest of your outdoor living area. It should also be positioned in an area that offers shade, protection from the wind, and good ventilation for smoke and cooking odors.
Step 3: Select the Materials for Your Outdoor Kitchen
The materials you choose for your outdoor kitchen will affect both its durability and its aesthetic appeal. Your contractor will help you choose materials that are weather-resistant, easy to clean, and able to withstand the outdoor elements.
Common materials for outdoor kitchens include stone, concrete, brick, stainless steel, and wood. Your contractor helps you select the right materials for your project and budget, discussing their pros and cons.
Step 4: Install the Necessary Utilities and Infrastructure
Before your outdoor kitchen can be built, your contractor will need to install the necessary utilities and infrastructure. This includes running electrical and gas lines, as well as providing access to water and drainage.
Your contractor should coordinate with local utilities and obtain any necessary permits or approvals to ensure that your outdoor kitchen is installed safely and according to local building codes.
Step 5: Build the Outdoor Kitchen Structure
Once the utilities and infrastructure in place, your contractor will begin building the structure of your outdoor kitchen. This will involve constructing the base, which may be made of concrete or other materials, and installing countertops, cabinetry, and appliances.
Then, your contractor will work with you to ensure that the design and layout of your outdoor kitchen meet your expectations and provide the functionality you need.
Step 6: Install the Appliances and Accessories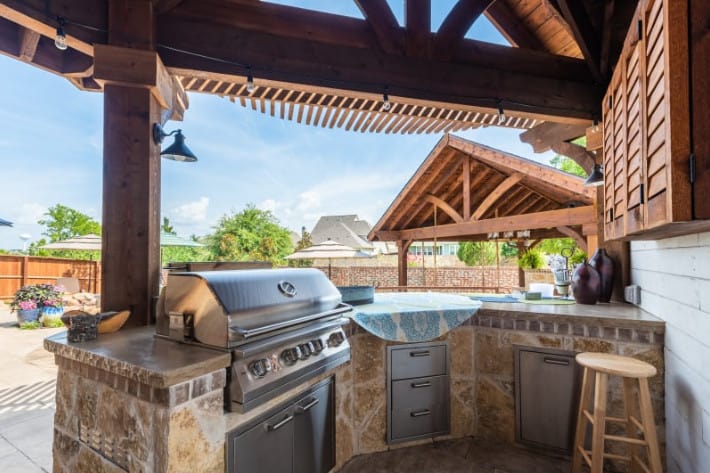 Once the structure is in place, your contractor will install the appliances and accessories that you've chosen for your outdoor kitchen. This may include a grill, refrigerator, sink, and outdoor lighting.
Your contractor will test all of the appliances to ensure that they are working properly and make any necessary adjustments to the plumbing or electrical systems.
Step 7: Add the Finishing Touches
Once the appliances and accessories installed, your contractor will add the finishing touches to your outdoor kitchen. This may include adding a backsplash, installing a sound system, or incorporating decorative features such as plants or outdoor artwork.
Your contractor ensures a clean and usable outdoor kitchen and provides necessary instructions and maintenance tips for keeping it in top condition.
Things to Consider Before You Begin Construction
Patio Cover or Pergola
A patio cover or pergola can provide shade and protection from the elements, allowing you to cook and entertain outside even in inclement weather.
An overhead shelter can make your outdoor kitchen functional and enjoyable throughout the year, extending its use beyond summer. Your contractor can help you select the right type of overhead shelter for your outdoor kitchen, taking into account your local climate, the style of your home, and your desired level of protection. Adding overhead shelter can be a great investment that enhances the functionality, style, and value of your home.
Design Style
Consider the style of your home and outdoor living space when choosing design style for your outdoor kitchen. Choose outdoor kitchen style that complements your property's design whether modern, traditional, or rustic.
If your home has modern design with minimalistic features and clean lines, a contemporary outdoor kitchen may be suitable. A streamlined design and sleek stainless steel appliances can complement this style. Choose a classic outdoor kitchen with brick or stone finishes and traditional cabinetry may be preferred for a traditional-style home.
Similarly, if your home has a rustic style with natural materials and a warm, cozy feel, you may want to consider an outdoor kitchen with wood finishes, natural stone countertops, and a rustic grill or oven. Your contractor can help you choose a design style that complements your home and creates a cohesive outdoor living space.
When choosing a design style for your outdoor kitchen, consider the overall style and aesthetic of your property. Ensuring the design flows with your home can create an outdoor kitchen that enhances its style and meets functional needs.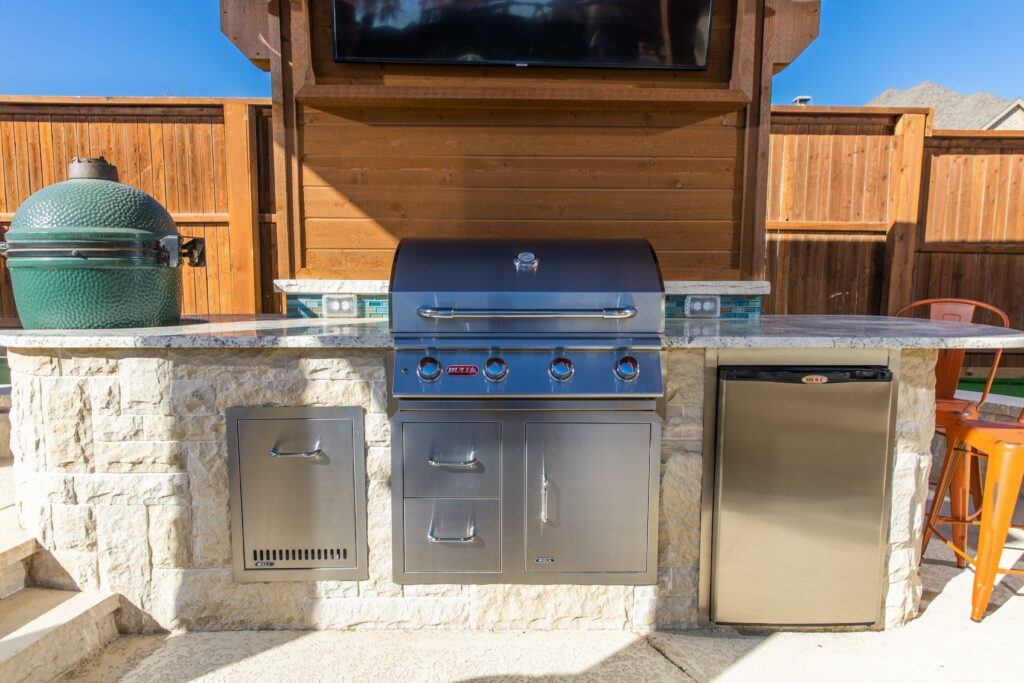 Add Ons
There are many add-ons to enhance your outdoor kitchen's functionality if you want to take it to the next level. For example, a fireplace can create a cozy atmosphere and provide warmth on cool nights, while a pizza oven can allow you to cook delicious, wood-fired pizzas right in your own backyard.
A griddle can expand your cooking options, making it easy to cook dishes that require a flat cooking surface. Outdoor speakers and TV enable watch parties or music and movie enjoyment while cooking and entertaining.
Other popular add-on is a beer tap or wine refrigerator add-ons can serve favorite beverages from the outdoor kitchen. Lighting features like string lights or under-counter lighting can create a warm and inviting ambiance.
Whatever add-ons you choose, your contractor can help you design an outdoor kitchen that meets your needs and preferences. Whether you're looking for a simple grilling station or a fully-equipped outdoor entertainment hub. Add-ons can make your outdoor kitchen the ultimate space for cooking, entertaining, and relaxing with family and friends.
Conclusion
In conclusion, building an outdoor kitchen can be a valuable investment that adds both functionality and appeal to your home. Building an outdoor kitchen with a professional contractor can be an enjoyable and rewarding project. Follow the steps in this guide for consultation, design, construction, and finishing touches to ensure a suitable outdoor kitchen. Factors like location, materials, shelter, and design can create a cohesive and functional outdoor living space. By doing so, you can enhance the value and enjoyment of your home for years to come.
Contact us for more information regarding price estimates and our service area. We've got the solutions for all your outdoor needs.
Check out our services and projects on our page for more information!
Request an Estimate Today
Now that you're thinking of the main types of outdoor structures
and their uses, you can create a concept that works for your
family. Keep in mind the purpose of the structure, whether natural
light in your home is a factor, and where you want the focal point
of your backyard to be. Once your gears get turning, reach out to
request an estimate on your concept.