Fence Height: How High is Too High
By Colby Coward / May 7, 2017
---
Estimated reading time: 3 minutes
A fence around your yard is aesthetically pleasing and gives you security and privacy. It can also increase the value of your property. If you've decided to fence your yard, make sure that you know the fence height rules for your area.
Fence Height Rules and Other General Rules
If you live in a subdivision or a development, check the covenants before choosing a fence. Most subdivisions have rules regarding the materials and the height of fences. Some don't allow fences in the front but allow them in the backyard.
Neighbors are another consideration—an important one. A boundary fence may be the shared responsibility of you and your neighbor. Check the laws pertaining to property fences before going any further. Once the laws and covenants are met, it's important to talk to the neighbors that may be affected by the fence. A sit-down meeting works better than a letter to keep communication open and friendly.
Let's say everything is a go and you're ready to decide on the type of fence you want for your property. Choosing the height of your fence might be a hard decision. There are some standards you can go by.
3 feet – front yard
4 feet – pool fence
6 feet – backyard
8 feet – deer fence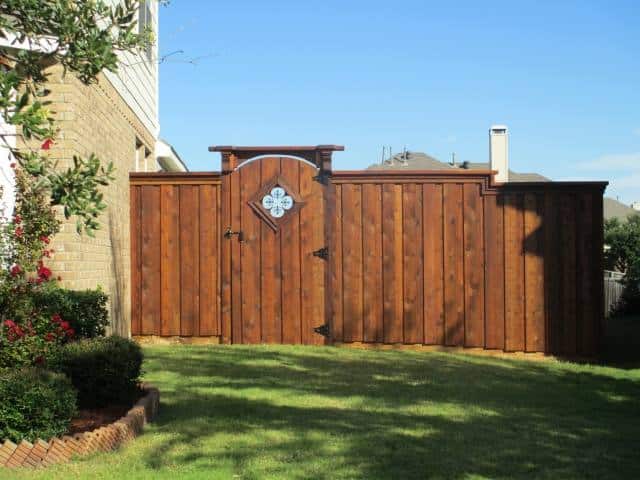 The height of your fence will likely depend on the reason you want a fence in the first place.
Why Do You Want a Fence?
For a decorative fence, you may decide on materials that you can see through and keep the fence short—three to four feet high. That may also work to keep a small pet from getting out.
Privacy fences, which block views from neighbors and passersby, are usually six to eight feet high and solid. To keep in a larger dog, you'll need a higher fence made of a more solid material.
A pool fence is usually four feet high, but personal preference is the rule here.
If you live where deer are problematic, you'll want an eight-foot fence to keep them from eating new grass and nibbling at your garden vegetables.
Fence Height Rules and Your Personal Style
It's important to follow the laws and housing development rules when it comes to having a fence installed. You'll be able to find a style and a design that will both follow the rules and meet your aesthetic requirements. Fences add something hard to define—a look of permanence, security, and a feeling that the property is well cared for. Whatever height you choose, your new fence will contribute to the value and enjoyment of your home.
Request an Estimate Today
Now that you're thinking of the main types of outdoor structures
and their uses, you can create a concept that works for your
family. Keep in mind the purpose of the structure, whether natural
light in your home is a factor, and where you want the focal point
of your backyard to be. Once your gears get turning, reach out to
request an estimate on your concept.