Advantages of Wrought Iron Fences and Gates
By Colby Coward / November 28, 2016
---
Are you trying to decide what kind of fencing to install around your home? There are many advantages of wrought iron that make it one of the top choices for security fencing and gates, not to mention a popular classic look. Here are a few good reasons to opt for wrought iron.
Table of Contents
Durable and Long-Lasting
Wrought iron fencing is made primarily of iron but with a little bit of carbon, which makes it very strong but also malleable enough to be turned into fencing. Therefore, one of the significant advantages of wrought iron is how long it lasts. Wrought iron fencing should be painted every ten to fifteen years, but if kept in good shape it will last many times that. Even if wrought iron begins to rust, it will take many years to compromise the integrity of the metal, and many people even prefer the aged patina of rusted wrought iron. Compared to that of wood fencing, the longevity of wrought iron is clearly worth the little bit of maintenance it requires.
Strong and Secure
The same strength that makes wrought iron lasts a long time also makes it perfect for security fencing. That's why it's not unusual to see security fences and gates made of wrought iron or of a brick wall with wrought iron fencing gracing the top. When you're looking for a strong and reliable material, wrought iron is a perfect choice. It will help you keep unwanted visitors and trespassers off your property.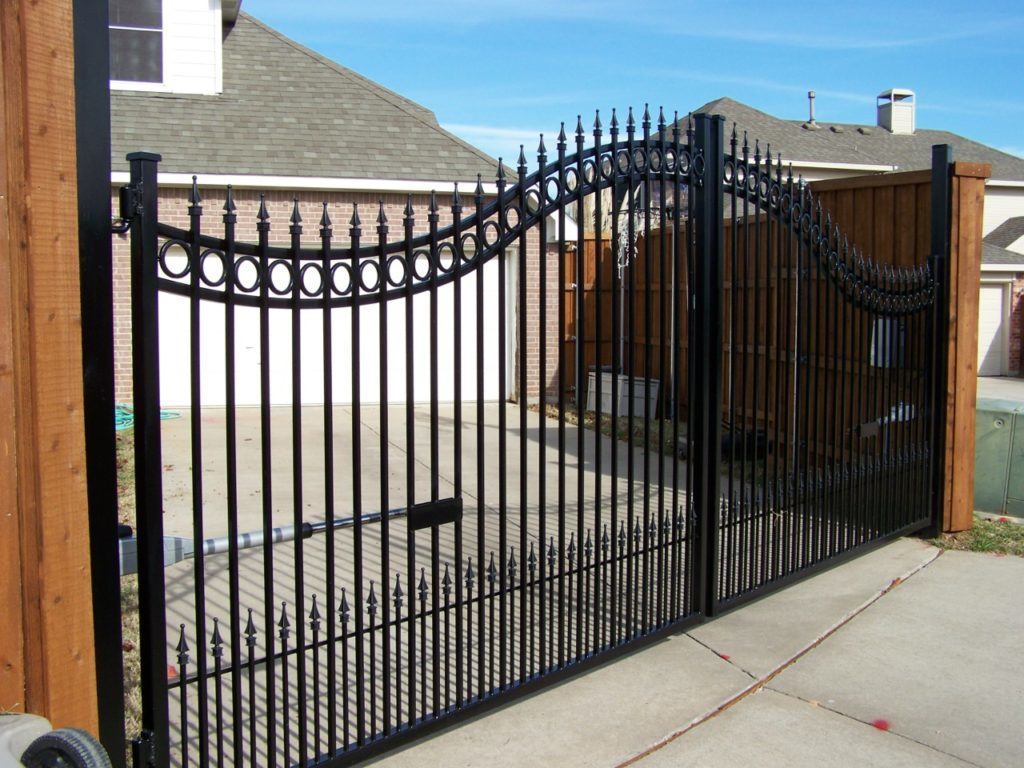 Classic Appearance
Since it has a very traditional appearance, wrought iron fencing lends any home a classic look, reminding passersby of the grace and beauty of bygone eras.
Unobtrusive
Compare the classic beauty of a wrought iron fence to the harsh look of a tall wood privacy fence. Wrought iron fencing is so much more pleasing because its open design allows the eye to pass through it and focus on the beauty of the property rather than on a bland expanse of fencing. When paired with beautifully designed landscaping, nothing beats the classic beauty of wrought iron fencing.
Support for Landscaping
Another advantage of wrought iron fencing is that it provides support for plants. It's not unusual to see hedges and climbing plants growing along wrought iron fencing. Landscapers use wrought iron fencing to provide a strong structure for plants to climb. It also helps to create the perfect border for hedges and other privacy plants. In addition to shielding your property from prying eyes, privacy plants will also help you muffle neighborhood noise.
Deciding on a type of fencing for your home takes thought and planning. Carefully consider what purposes you want your fencing to achieve. Do you want a strong, reliable security fence? Do you need something that will last a long time without too much maintenance? Are you going for a classic look that won't be overbearing while still lending itself to privacy? Wrought iron fencing is ideal for security, privacy, durability, longevity, and overall aesthetics.
Request an Estimate Today
Now that you're thinking of the main types of outdoor structures
and their uses, you can create a concept that works for your
family. Keep in mind the purpose of the structure, whether natural
light in your home is a factor, and where you want the focal point
of your backyard to be. Once your gears get turning, reach out to
request an estimate on your concept.