Why Your Outdoor Space Needs a Fire Feature
By Colby Coward / October 1, 2020
---
Estimated reading time: 6 minutes
Whether you're enjoying a pool party on a warm summer day or a family cookout on a cool fall evening, Texas homeowners love to spend time outdoors with family and friends. But when the cold weather rolls in, many resorts to moving their parties indoors. Thankfully, outdoor fire features can enhance your outdoor living space and the activities you enjoy. 
Types of Outdoor Fire Features
Designing a space with outdoor fire features creates a cozy, relaxing atmosphere for all types of activities. Whether you enjoy entertaining with music and dancing or more intimate gatherings with quiet conversation, outdoor fire features can bring warmth and ambiance to your backyard setting.
Fireplace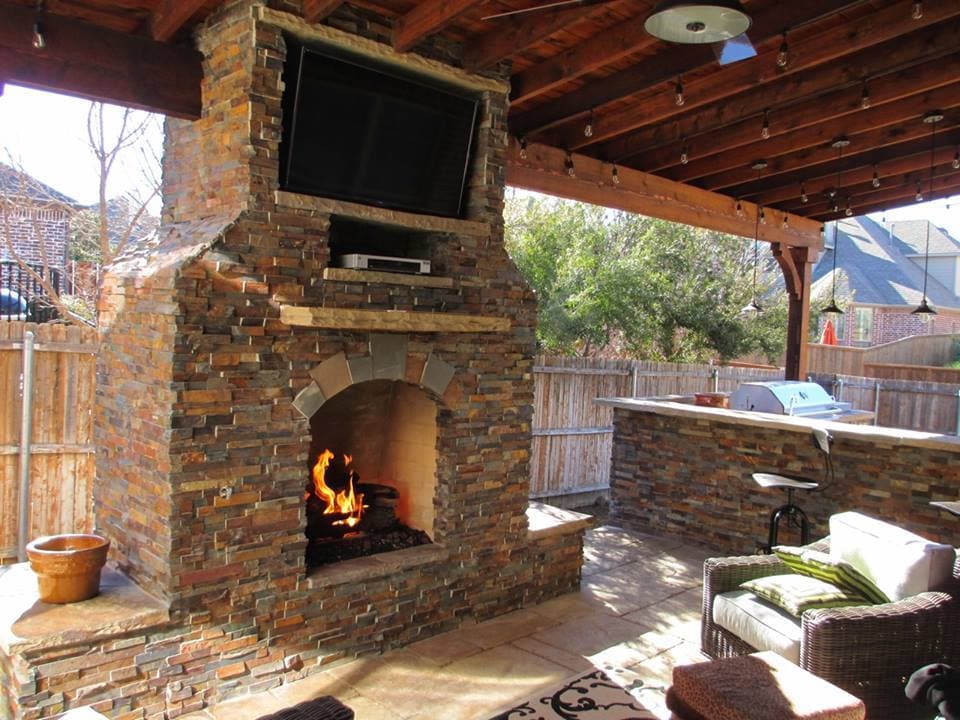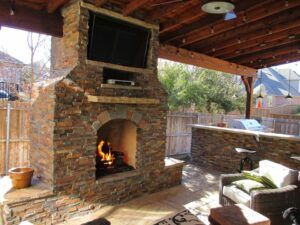 If you have a patio or pergola, an outdoor fireplace is a great investment. A fireplace can expand your home's usable living space and provide a wonderful spot for dining and entertaining. Outdoor fireplaces can be designed in various shapes and sizes and can be built out of materials that suit your needs and complement the style of your home. Depending on your space and budget, consider building your fireplace with:
a custom seating ledge
water features
firewood storage
accent lighting
An outdoor fireplace typically costs more to build than other features. This is due to customization and safety regulations but is often considered well worth the investment. Because a fireplace has a chimney and firebox, it needs proper ventilation for safety. Before creating your outdoor fireplace, be sure you or your contractor obtain a building permit and meet local code regulations.
Fire Pits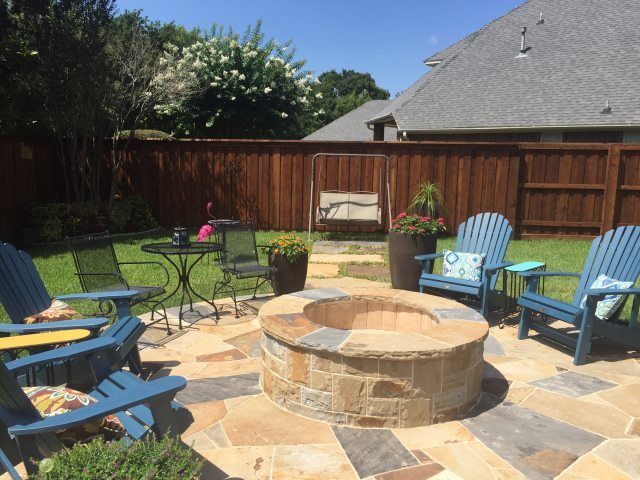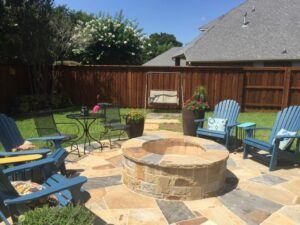 Backyard fire pits are outdoor fire features that are affordable and easy to build in any outdoor setting. If you don't have a patio or a large backyard, a fire pit provides the perfect solution for cozy gatherings. Since fire pits are low to the ground and don't require chimneys for ventilation, they usually don't require permits that larger fireplaces do. Fire pits can be custom-built in various shapes and sizes. A wide variety of materials are available as well. This allows your fire pit to be designed to complement the rest of your outdoor living space. Add a seating ledge or surround the space with Adirondack chairs and you have the perfect place for propping up your feet with a glass of wine or roasting marshmallows with the kids.
Learn More: Fire Pit Maintenance and Safety Tips
Fire Tables
Fire tables are outdoor tables with fire features built into the center. As self-contained units with stylish features, they can be placed anywhere to create warmth and intimate areas for cozy conversation. You can find fire tables in many shapes, sizes, and colors to enhance your home's architectural features. Depending on your preferences, your fire table can be designed with:

Propane gas and auto ignition
Tempered glass tops
Arctic ice glass rocks
Weather-resistant finishes
Beautiful metal or stone accents
Chimineas
Chimineas are wonderful outdoor fire features for small backyard spaces where square footage is at a premium. Dating back about 400 years, chimineas were originally made of clay and used for heating and cooking indoors. Today's models are made mostly of cast iron and aluminum. These materials help safely contain high heat from burning wood and fire rocks. As a simple free-standing unit with a front-loading fireplace and a vertical smokestack, chimineas are very affordable and easy to use. Not to mention, they add a beautiful and unique focal point to your outdoor space.
Benefits of Outdoor Fire Features
Today's home buyers are looking for amenities that increase ease of living, relaxation, and convenience. Outdoor fire features fulfill these wants and needs, but they offer more than just warmth in the colder seasons.
Expanded Seasons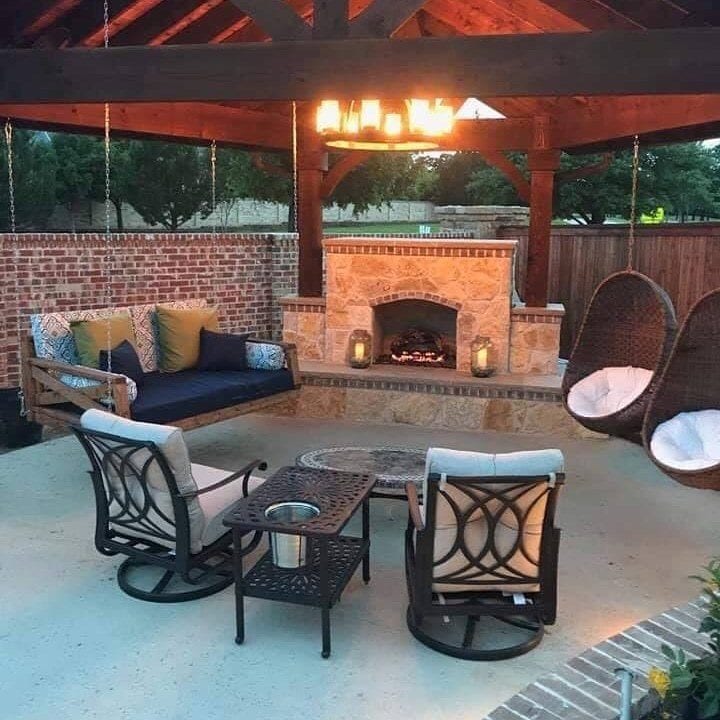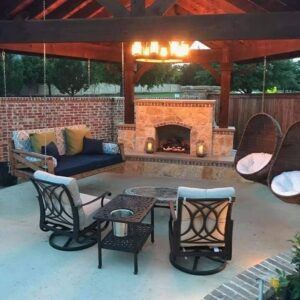 Cooler temperatures no longer need to chase your parties indoors. Installing a fire feature into your outdoor living space can give you everything you need to keep your gatherings lively late into the evening. They provide warmth and relief from the cold. They also provide light so you and your guests can easily see even after the sun goes down. Roast s'mores over your fire pit or drink a glass of wine in front of your chiminea. Enjoy dessert on your fire table, or cozy up under a blanket in front of your fireplace – the possibilities are endless. Outdoor fire features make it possible to enjoy the great outdoors no matter what time of the year it is.
Outdoor Dining and Entertaining
Your outdoor fire feature is sure to expand your living space for dining and entertaining in your backyard. Each feature drastically increases your opportunities and capabilities for outdoor dining and entertaining. Whether you're enjoying dinner with your family or entertaining a group of guests, it will create a fun, warm, and inviting atmosphere year-round. 
Learn More: Benefits of an Outdoor Fire Feature
Visual Appeal
With beautiful textures and materials, unique focal points, landscaping height and depth, and mesmerizing flames that flicker against the night sky, outdoor fire features quickly create visual interest in your outdoor space. A unique, custom fire feature can be a great conversation starter and a place to gather.
Family Activities
Outdoor fire features are great for bonding and spending time with your family. Whether you're cooking out and enjoying a burger after a long day of swimming or are roasting marshmallows and enjoying hot chocolate in the cool fall air, outdoor fire features can help enhance your time together, creating a warm, fun atmosphere for all. 
Higher Property Value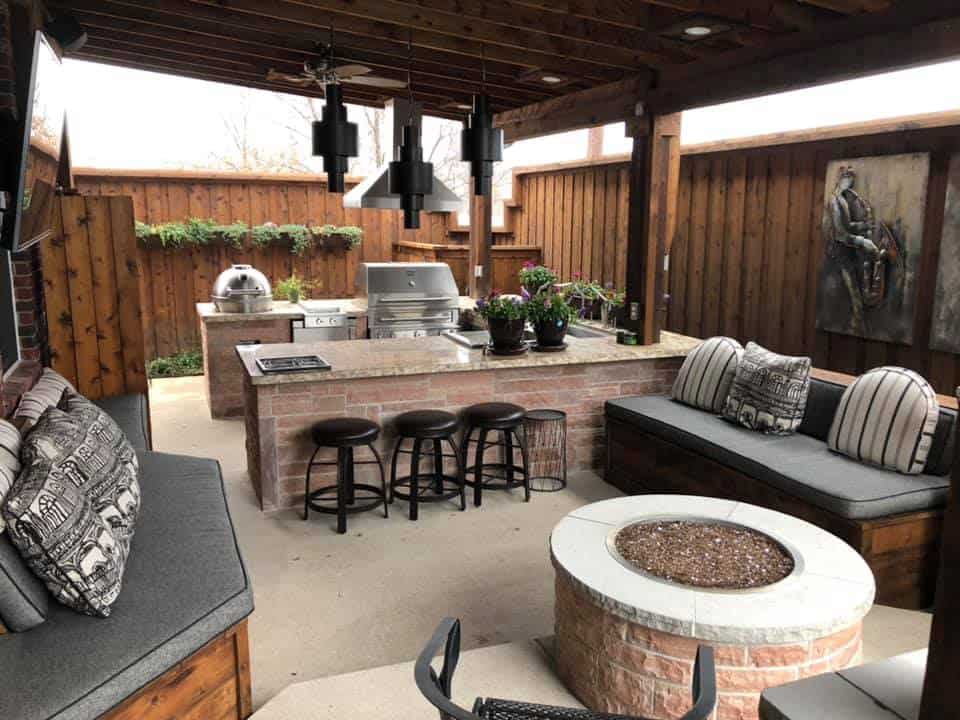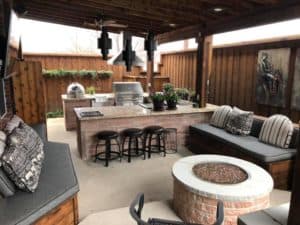 Outdoor living features are quickly making their way to the top of home buyers' must-have lists. This makes them a worthy investment for those looking to sell. Although most homeowners build outdoor features for increased activities or relaxation, they also bring a big boost in property value. Real estate market studies show that outdoor features like swimming pools, hot tubs and spas, outdoor kitchens, pergolas, and outdoor fireplaces often bring a big return on investment. 
Learn More: Outdoor Features with a Big ROI
Request an Estimate Today
Now that you're thinking of the main types of outdoor structures
and their uses, you can create a concept that works for your
family. Keep in mind the purpose of the structure, whether natural
light in your home is a factor, and where you want the focal point
of your backyard to be. Once your gears get turning, reach out to
request an estimate on your concept.