When Is the Best Time to Stain a Fence?
By Colby Coward / March 9, 2022
---
For many homeowners, your backyard is either a pride point or a pain point. If you love your yard, it can be somewhere very enjoyable to be. It's where your pets and children play, where you host your friends and family, where you BBQ in the summer months, and where you sit in the evenings soaking up the last of the setting sun.
We love helping people create the outdoor living space of their dreams. One great place to start to give your yard a facelift is to stain your fences. This article will answer the question 'when is the best time to stain a fence', give you an insight into the cost and effort it takes to stain a fence, and tips and tricks to make your backyard project easier!
Table of Contents
When Is the Best Time to Stain a Fence?
There's no specific time you should or shouldn't be staining your fence. As long as you have good quality stain, you can do it any time that suits you. However, we have a few recommendations that might make your life a little easier when it comes to staining.
Stain At the Start of the Year
We'd recommend staining at the beginning of the year, between January and March. While it might be a little colder than a summer project, there are a few reasons. Staining your fence around this time means your backyard will have a refresh for the coming summer months, and you'll feel more confident inviting your family and friends around. Because it's cooler out and your children will probably be inside, you're also less likely to have little hands imprinting handprints onto the fence!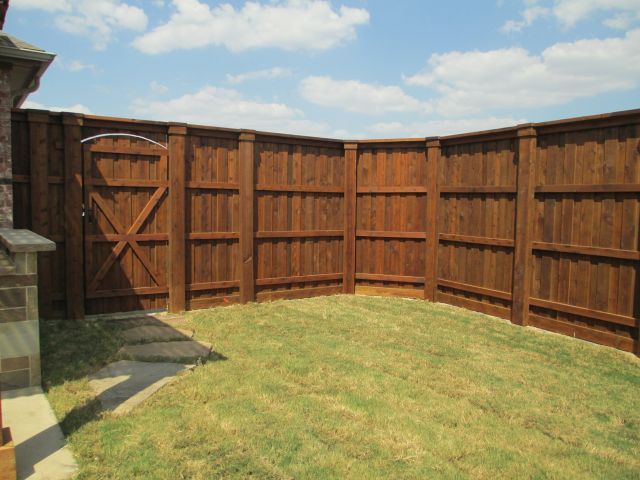 Before staining, make sure to check the weather forecast. You need a few days of dry weather and warm sun both before and after staining. The boards need to be completely dry beforehand and given enough time to let the stain ingrain afterward.
Staining around January to March is also beneficial because it's in your best interest to paint when there is cloud cover. Staining in the direct sun could cause the stain to flash dry on a surface level without penetrating the wood. This means the stain will start to flake quicker, and the longevity of the wood is reduced. However, if you have family coming around for the holidays, you might want to take out a weekend near the end of summer to get this job done!
When Is the Best Time to Stain a Cedar Fence
Cedar is a popular choice in wooden yard furniture for its high quality, durability, and appearance. Cedarwood is beautiful and naturally has rot resistance properties, so you'll get years out of your cedar fence and furniture anyway, but it should still be stained to maximize that.
Just like we've already covered, stain your cedar fence between January and March, if possible.
How Much Does It Cost to Stain a Fence
If you're doing it yourself, the cost of staining a fence can vary. A bucket of 4-5 liter fence stain can vary depending on brand and quality. One bucket will generally do one coat for 5 fence panels. Remember, you also need to factor in the price of tools. Spending that little bit more to ensure quality is always worth it.
Stained Fences: What Are the Benefits?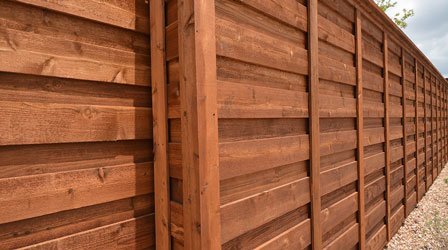 There are several practical and visual benefits to staining your fence. Many people think stained outdoor living structures and fences are just for an aesthetic benefit – but there's actually a lot more going on beneath the surface.
Here are the main reasons you should stain any wood that's going to live outside.
A Longer Life
If you stain your fence, you're adding years to its life. Most people don't realize it, but just because wood is naturally outside doesn't mean it doesn't get weathered. Staining your fence can add rot prevention. It creates a water-resistant seal that'll keep rain and dew out, making rot far less likely to occur. This seal will also stop the wood from warping when it gets wet and then dries out of shape.
On the other end of the spectrum, if water gets into the wood and freezes during winter, it can make it split. This not only looks ugly but poses a threat to your safety if there is a weak spot or hole in your fence. Staining also limits UV damage. Over time, especially in sunnier climates like Texas, the sun's UV rays will wear out the color and grain, leaving your wood panels looking tired and dull.
Protects Your Investment
Fence panels aren't cheap, and they're an investment into your privacy and safety. Staining them will protect your investment by making sure you're getting as much out of them as possible.
Aesthetically More Attractive
Stained fence panels generally look more attractive than natural wood. They hide any imperfections in the wood, make each panel look uniform, and the richer color contrasts beautifully with green grass.
Elevate All Aspects of Your Backyard
Hopefully, you should now know the answer to our question at the beginning of this article: 'when is the best time to stain a fence.' If you'd like to give your yard a complete makeover and make it somewhere you love to be and host, get an estimate from one of our helpful team members!
Request an Estimate Today
Now that you're thinking of the main types of outdoor structures
and their uses, you can create a concept that works for your
family. Keep in mind the purpose of the structure, whether natural
light in your home is a factor, and where you want the focal point
of your backyard to be. Once your gears get turning, reach out to
request an estimate on your concept.