Crafting the Perfect Outdoor Living Space
By Colby Coward / September 11, 2023
---
Designing an outdoor living space is an exciting endeavor that can convert your backyard into a tranquil retreat for leisure and entertainment. With a plethora of options available, crafting your ideal outdoor living space can seem overwhelming. Yet, with appropriate guidance and a few design strategies, you can soon be basking in your dream outdoor area. Check out this guide on how to curate the ideal outdoor living space for your home.
Table of Contents
Laying the Foundation
Visualize Your Space: Initiate your planning by daydreaming. Envision your ideal space – do you hear the comforting hum of a waterfall? Can you see your family huddled around a fire? Begin by imagining and then walk around your yard, ensuring that your envisaged design is feasible from every perspective. This is your canvas – dream as big or as intimate as you want.
Zoning Your Space: For sprawling yards, maintaining design integrity might seem challenging. A tactic is to divide your space into specific zones or 'rooms', akin to an interior layout. Determine the purpose of each zone and design accordingly, intertwining elements across these zones for a harmonious outdoor layout.
Set Your Priorities: Identify your desired features, be it a pergola, an alfresco kitchen, or an expansive deck. Draft a preliminary sketch on paper, earmarking where you wish these elements to be. If budget constraints arise, prioritize. A competent contractor can guide you in aligning your vision with your budget.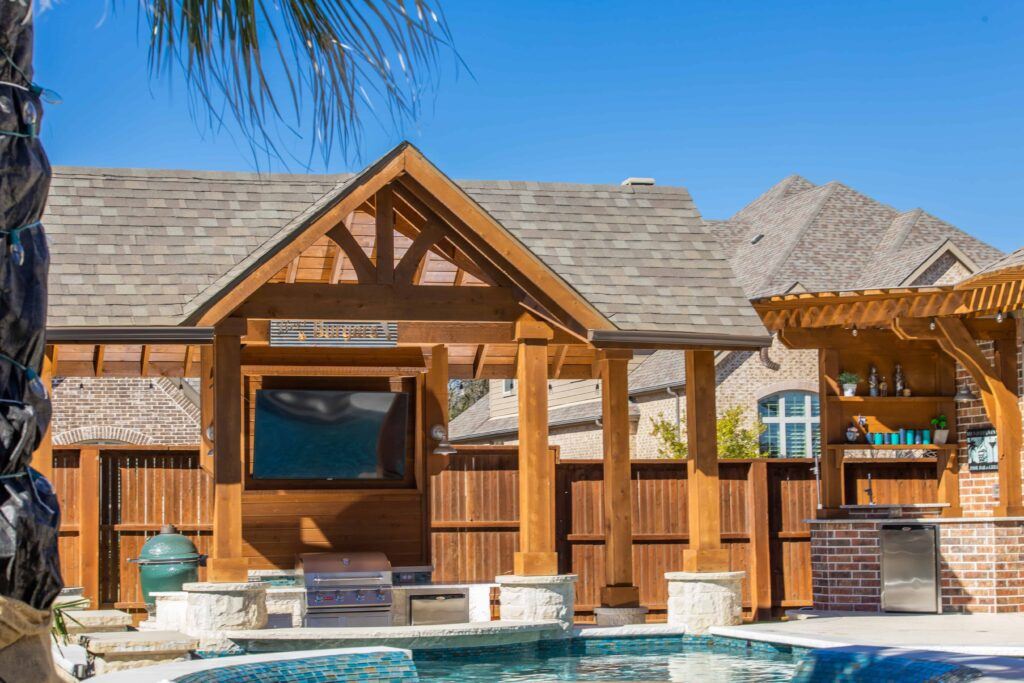 Enhancing Your Outdoor Living Space
Illumination: The ambiance of any outdoor living space hinges largely on its lighting. Opt for lights that resonate with your garden's style. Low-voltage LED lights are both trendy and energy-conserving. For aesthetic charm, integrate uplights, downlights, and cafe-style string lights.
Furnishings: Outdoor furniture can be the cornerstone of comfort. While affordability is a bonus, it's essential to choose durable pieces that can weather seasonal changes. Think about investing in recycled HDPE furnishings for longevity. Enhance comfort with seasonal cushions.
Shelter Options: The unpredictability of weather shouldn't deter outdoor enjoyment. Patio covers and pergolas not only elevate the aesthetics but also shield against unforeseen weather changes, ensuring uninterrupted outdoor moments.
Warmth Sources: Features like outdoor fireplaces and fire pits inject warmth and coziness. From metallic stand-alone pits to custom-built brick fireplaces, they become focal points for gatherings and serene evenings.
Alfresco Cooking: For those who love outdoor gatherings, an outdoor kitchen is indispensable. To make the most of all seasons, consider a sheltered kitchen space. Personalize it with amenities ranging from grills to mini-bars.
Textile Touches: Elevate comfort with soft textiles. Stock up on blankets, add cushions to seating, drape curtains for privacy, and incorporate floor rugs. These touches can merge indoor coziness with outdoor vibrancy.
Plant Life: Even in cooler months, certain plants thrive. Embellish your space with seasonal greenery to add dynamism and color. Research plants suitable for your region and the season.
Entertainment Features: To make your outdoor space the go-to spot for gatherings, consider tech additions like a television or sound system. From festive celebrations to game nights, entertainment features enhance the fun quotient.
The Significance of a Wood Fence in Your Outdoor Living Space
A wood fence isn't merely a boundary; it's an extension of your outdoor living space and serves multiple purposes. Here's why incorporating a wood fence can be pivotal to your outdoor design: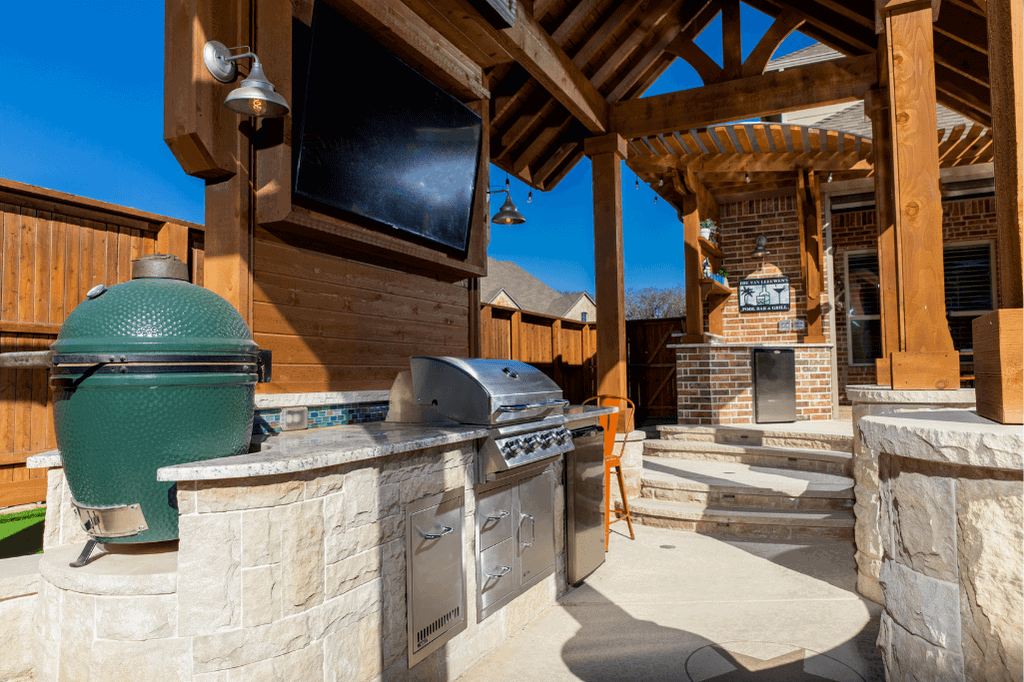 Privacy: One of the most apparent benefits of a wood fence is the privacy it offers. Whether you're sunbathing, having a BBQ, or merely reading a book, a fence ensures that you can do so without the prying eyes of neighbors or passersby.
Aesthetic Appeal: Wood fences, with their natural grains and varied shades, can enhance the beauty of your outdoor living space. They bring a rustic charm and can be painted or stained to match your home's exterior or the theme of your garden.
Safety: If you have kids or pets, a wood fence can act as a protective barrier, ensuring they don't wander off and stay within the safety of your property.
Noise Reduction: Live near a busy road or have noisy neighbors? A wood fence can act as a sound barrier, absorbing some of the noises and making your outdoor space a peaceful retreat.
Increased Property Value: A well-maintained wood fence can boost your property's value. Potential buyers often view a fence as a bonus since it offers privacy, security, and aesthetic appeal.
Wildlife Control: While you might enjoy the occasional visit from wildlife, you might not want them nibbling on your vegetable garden or flower beds. A fence acts as a deterrent, ensuring your plants remain untouched.
Defining Spaces: A wood fence can be used to delineate different 'rooms' or zones within your outdoor space. For instance, you might fence off a vegetable garden from the main patio or create a separate play area for kids.
Versatility in Design: With the plethora of designs available, from classic picket fences to intricate lattice designs, there's a wood fence to match every homeowner's taste and outdoor design preference.
Incorporating a wood fence into your outdoor living space is not just a practical choice but can also be a design statement. It sets the tone for your outdoor retreat, offering both functionality and beauty. When planning your outdoor living space, consider the wood fence as a cornerstone, setting the ambiance for your backyard oasis.
Realizing your outdoor living space dreams often means emphasizing features that promote year-round engagement and can amplify the value and function of your space. For a seamless transition from dreams to reality, consider partnering with experts like Texas Best Fence & Patio. Reach out and embark on your outdoor living space journey! Contact us today!
Request an Estimate Today
Now that you're thinking of the main types of outdoor structures
and their uses, you can create a concept that works for your
family. Keep in mind the purpose of the structure, whether natural
light in your home is a factor, and where you want the focal point
of your backyard to be. Once your gears get turning, reach out to
request an estimate on your concept.