Lifestyle and Entertaining
How to Plan an Outdoor Living Space
By Colby Coward / February 10, 2022
---
Estimated reading time: 6 minutes
Outdoor living spaces are fun and relaxing places to entertain. Some ideas for your backyard could include an outdoor kitchen, covered patio, and fire pit. Bringing the outside in can be a beautiful addition to your life!
Outdoor living space planning can be overwhelming, but it doesn't have to be. In fact, it can actually be fun and exciting if you know what you're doing, so take a look at our quick guide on how to plan an outdoor living space to get you started.
Where to Begin Your Planning
Dreams and Plans
The first step, and possibly for some, the easiest of them all: using your imagination. This step is where you dream big for your outdoor space.
What type of environment do you want to create? Will you like the sound of running water? Maybe you should look into placing a waterfall somewhere. Dreaming of having the family sitting outside around a fire? Then you'll be wanting to add a fire pit to your outdoor design.
Once you've got a good idea of your envisioned living space, walk around the property to envision it. You want to be sure your design will work from all angles. Don't be shy with this step; you can always be more sensible later in the process. This is the time to dream.
Section It Off
If your yard is too large, you might have trouble figuring out a cohesive outdoor design throughout. What may help is sectioning off your garden space into areas, as you would see in a house.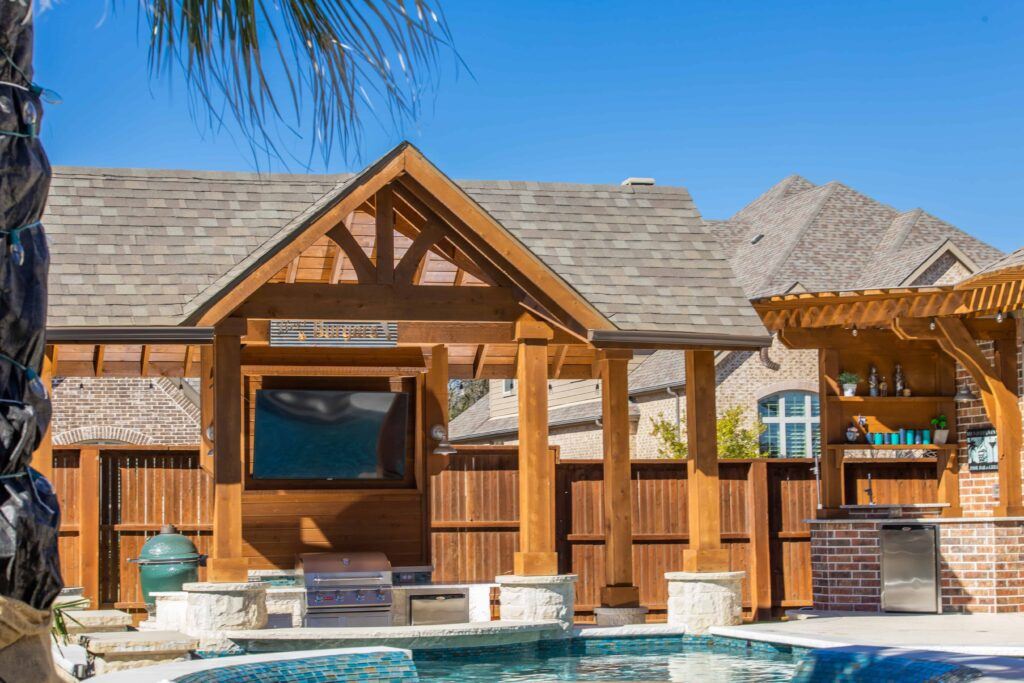 Decide what section of your yard will be for what purpose, and design your space accordingly. Then you can bring in complementary elements throughout all the "areas" to tie them together as one coordinated outdoor design.
Prioritize
If you have elements that you want to include in your design but can't afford right now, make a list and prioritize. Then, figure out all the features you want, like a pergola, an outdoor kitchen, or a polished deck.
Jot down a design on paper where you want these elements to appear in your outdoor design, list them from what you consider most important to least important, then draw up a budget and saving plan for the larger items.
Perhaps a fire pit is too large of an expense for the immediate future if you've just purchased the house, so that could fall lower down on the list, giving you more time to save. Then when you're underway with your yard design, you can leave gaps that you can later fill with elements once you can afford them.
Ideas for Adding to Your Outdoor Living Space
Outdoor Lighting
Lighting makes any outdoor living space safer and more enjoyable. But it also creates a warm and inviting atmosphere. Choose lighting features that are aesthetically pleasing and match the style of your yard. Low-voltage LED lights are a popular, energy-efficient option.
Uplights can be installed along with structures and walls, and downlights along walkways. Lights can even be installed by patios and along pathways, under capstones, and within retaining walls. Add a decorative touch by finishing off your space with a string or two of cafe lights.
Furniture
Whether you're cozying up under your patio cover or gathering around a fire pit, outdoor furniture provides a place for you and your guests to sit and relax in the great outdoors. There are many options that are affordable. But you want to make sure they're appropriate for long-term use in a wide range of weather conditions.
It's often worth investing a few extra dollars to get durable pieces that will last longer and hold up in potentially harsh winter weather.
Consider recycled HDPE (high-density polyethylene) furniture which offers minimal maintenance and a high level of durability. If you'll be using it year-round, add removable cushions for extra comfortability and warmth during the fall and winter months.
Patio Covers and Pergolas
Without a patio cover or pergola, the amount of time that you can spend on your patio becomes much more limited. Don't let unexpected weather send your guests running inside. Patio covers and pergolas are outdoor living features that can transform how you spend your time outside. Having shelter offers shade and allows you to continue enjoying the natural elements of the great outdoors.
Fire Features
An outdoor fireplace or fire pit adds a cozy element to any outdoor living space that is both functional and visually appealing. Select a stand-alone fire pit in steel, bronze, or copper, or install a custom-built fireplace made from brick or stone.
Fire features create a space for family and friends to gather and socialize while staying warm in the cooler temperatures. From romantic nights under the stars to roasting s'mores with the kids, a fire feature is sure to bring warmth to your winter.
Learn More: Why Your Outdoor Space Needs a Fire Feature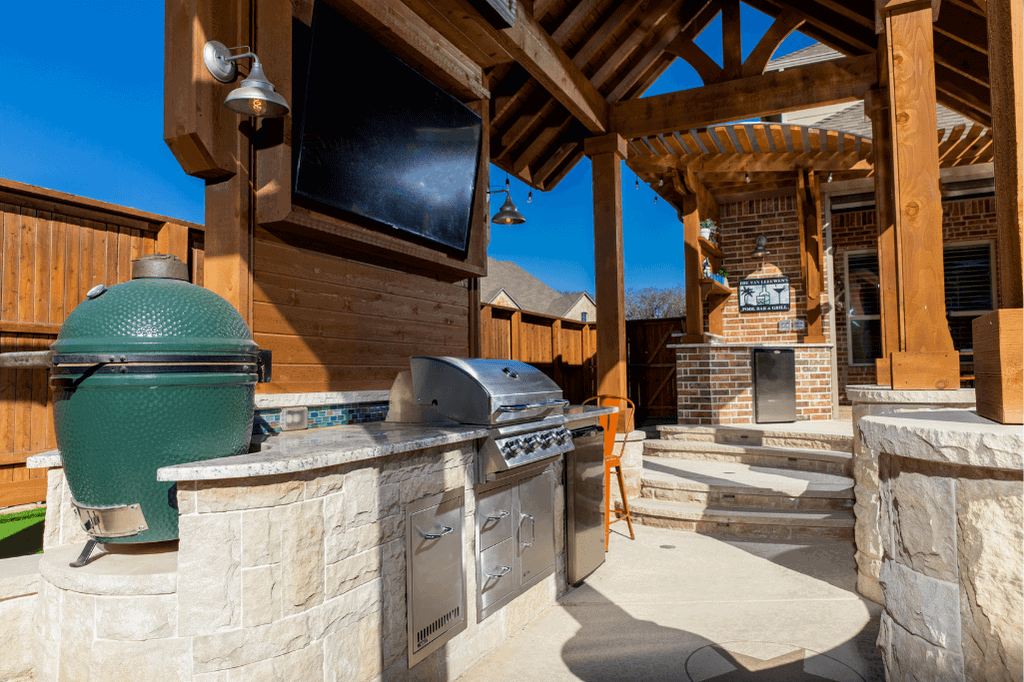 Outdoor Kitchen
Do you frequently entertain outdoors? Making endless trips back and forth between the kitchen and the patio can get tiring and messy. Building an outdoor kitchen lets you take your entertaining to a whole new level. Most people choose to cover their outdoor kitchens to maximize the cooking season.
Depending on your budget, space, and personal preferences, your outdoor kitchen can be as simple or complex as you like. Consider including a mini or full-size refrigerator, grill, food prep areas, sink, mini-bar, and storage.
Learn More: Outdoor Features With a Big ROI
Textiles
Spending cool evenings outdoors can be made even cozier with some warm textiles. Be sure to have a variety of blankets available for you and your guests to use. Drape curtains from your patio cover beams to block the breeze.
Add some decorative pillows to your furniture. And throw down a rug to help keep your feet warm. Cozy textiles are an outdoor living feature that can help bring the indoors outdoors, taking your outdoor living space to the next level.
Greenery and Foliage
Despite what you may think, there are many types of plants that grow well in the colder, winter months. Adding foliage can breathe new life into your outdoor space, adding interest, depth, and color.
Start by cleaning out the remnants from your summer and fall plants. Then, look up your gardening zone and find out which plants will do well in the colder months.
Entertainment
If you plan on using your outdoor living space to entertain and host this season, consider installing a television and sound system. Whether you're throwing a holiday party, hosting a game night, or throwing a Superbowl party, outdoor entertainment options are a great way to liven things up and make sure your guests have fun all night long!
Get the Outdoor Living Space of Your Dreams
Planning features that support year-round usage of your beautiful backyard can not only improve the moments and flexibility spent out there, but the value of your investment into the space. Let Texas Best Fence & Patio be your partner in planning and bringing the outdoor living space of your dreams to life.
Request an Estimate Today
Now that you're thinking of the main types of outdoor structures
and their uses, you can create a concept that works for your
family. Keep in mind the purpose of the structure, whether natural
light in your home is a factor, and where you want the focal point
of your backyard to be. Once your gears get turning, reach out to
request an estimate on your concept.