How to Choose the Right Fence
By Colby Coward / January 7, 2019
---
Estimated reading time: 15 minutes
Installing a fence on your property is a great way to add value, create privacy, and bring character to any outdoor space. Fences of all styles help contribute to the exterior aesthetic of your home, creating a stylish space for entertaining family and friends. Whatever your family's needs, there are options for everyone! From wood to wrought iron and all of their various styles, the possibilities are endless. When analyzing how to choose the right fence, make sure you're knowledgeable on the different fence types and how to properly take care of each.
Why Do I Need a Fence?
When it comes to choosing the right fence, you want to make sure it works properly and is serving the purpose you need it to serve. Start by identifying what that purpose is. Why do you need a fence? Here are a few of the most common reasons people install fences on their property.
Aesthetics
Many fences are installed primarily to enhance the look of your property. A good-looking fence can drastically increase your property's value. It can also help make it look more finished and well-kept. If you are installing a fence for aesthetic purposes, consider your style preferences. What look do you want to express throughout your property? Both wrought iron and wood fences can bring certain levels of character, drama, and sophistication to your home. Which one best suits your style?
Keeping Critters In—Or Out
Both wrought iron and wood fences help keep your pets in and pests out. A fence provides a safe place for your family to spend time outdoors without being bothered by unwanted visitors. It also gives your pets a safe place to run around freely. Keep in mind, the more solid your fencing material and style is, the better chances you have of protecting your home, yard, and pets.
Privacy & Protection
Surrounding your home with a fence is about more than just curb appeal. A fence of any style provides an added level of privacy and protection for you and your family. It helps create a place for your children and pets to safely play outdoors. Intruders are also less likely to target homes that are surrounded by a fence and gate. Installing a fence for privacy allows you to go about your day without fear of people being able to see into your personal space. Because of its solid structure, privacy is best achieved by a solid wooden fence. If you are looking for some visibility, however, a wrought iron fence is another great option.
Choosing Fencing Materials
Choosing the right fencing materials shouldn't be stressful. When it comes to choosing which one best suits your needs, take the purpose of the fence and your styling preferences into consideration. In most cases, there isn't a wrong choice. Each material comes with its own benefits and downsides. Here are just a few.
Wood Fences
Not only do wood fences provide safety, but they are also arguably one of the most important aesthetic features of your property. Wood fences can be used to create attractive curves with a natural appearance. They can also easily be tailored to fit your style preferences. Stain or paint can be added to a wood fence in the color or stain that best fits the style of your home to help create the outdoor space you've been dreaming of.
Benefits of Wood Fences
A wood fence can be pre-stained before the fencing materials arrive on your property. You don't have to be concerned about staining after assembly or stain landing on your favorite plants and patio furniture.
While wood is extremely durable, it does require a bit of upkeep. Most fence companies use pre-treated wood that repels insects and prevents the wood from rotting. From time to time, however, you may need to re-stain or give your fence a new coat of paint. A quality fencing contractor can provide re-staining of fences that they installed at no additional cost. This ensures a top-rate professional job, as well as a perfectly matched stain to the original color stain you chose for your wood fence.
Wood is a highly customizable building material. If you have wood fence ideas that you don't see already, you can discuss your ideas with your fencing contractor. They will be able to work closely with you to make sure your wood fence ideas are brought to life and look just like what you're looking for.
Wood Species
When it comes to species of wood, cedar and redwood are the most popular in fence design. Their resistance to wear and insects make them ideal for preserving your investment long-term.
Wood Styles
Whether you have a large yard with an unusual shape or a small yard in an urban area, there is a style of wood fence that will fit perfectly with your existing landscaping. Here are the popular styles for you to consider.
Board on Board Fence
The board-on-board fencing style is very popular in Texas. There are two friendly sides, which is an advantage when you are building a layout that exposes both sides for family activities or you have neighbors nearby and you want to provide a nice effect. Board on board construction also provides total privacy because the pickets overlap on each side. This fencing style tends to be installed with longer board lengths, providing both added height and superior strength.
Learn More: How High is Too High?
Boxed Post Fence
Boxed post fences are another great option that provides privacy. With boxed post fences, there are two friendly sides and the added strength of the boxed posts. But don't hide this fence in the back, unseen portion of your yard. Use a more standard design in the hidden areas and upgrade to the boxed design where family activities take place and people can see its true beauty.
Horizontal Fence
Horizontal fences are generally associated with large areas such as those used for horses or cattle. In a smaller suburban setting, however, they are perfect for separating sections of your yard for different purposes. If you want to separate your swimming pool from the garden or patio area, a horizontal fence can get the job done. You can even combine it with other fencing styles to create a dramatic outdoor atmosphere.
Wrought Iron
Strong and long-lasting, wrought iron is a great way to bring drama to your property. While the design and style of wrought iron used to be pretty limited, these days it is much more flexible and diverse. Wrought iron fences add flair to traditional, colonial, or Victorian homes, bringing its own sophistication and style to each space.
Benefits of Wrought Iron
Wrought iron is a fairly low-maintenance fencing material and often just needs a quick rinse with the hose and an occasional coat of paint.
It can be used with a variety of decorative styles and immediately adds curb appeal to any home.
While repair can be expensive when needed, typical iron fences last much longer than the average lifetime of other fence materials.
Wrought iron fences provide an added level of security for a property. You even have the option of extending that security and adding an automatic driveway gate. This is a great way to protect your family and your home and discourage intruders from entering your property.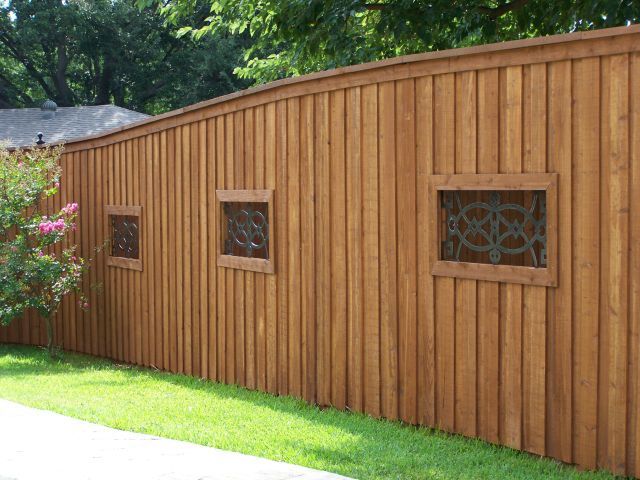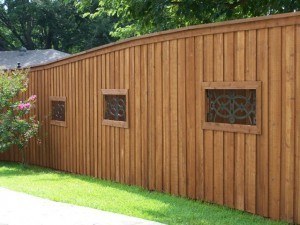 Tip: If you're wanting the elegance of wrought iron without installing an entire fence or gate, wrought iron details like inserts or doggie windows can be added to upgrade the look of your wood fence or gate.
Wrought iron is a classic fence choice for any home. When an iron fence runs the perimeter of the yard, it gives the property an elegant aesthetic that many people desire for their homes. There is a wide range of wrought iron fence designs available to fit any home style, from traditional to modern.
Making the Choice
When it comes to choosing your fence style and material, take style, function, and purpose into consideration. No matter what you choose, your fencing professionals can help you decide which type best fits your needs. They'll also be able to tell you how to maintain your fence so that it stays in great shape for years to come.
Do I Need a New Fence?
Wood fences are a beautiful addition to any yard, but, unfortunately, they don't last forever. Even with regular maintenance, they do deteriorate over time and need to be replaced. How many years your fence will last depends on several factors such as the type of wood and whether or not it is treated or painted. Homeowners should regularly inspect their yard's fences for signs of damage. If you notice any of the following signs, it probably is time to replace your fence.
Damage from an Accident
Although this one is usually pretty obvious, your fence will likely have to be replaced if it is damaged by an accident. Incidents such as being hit by a falling tree or by a vehicle typically cause significant damage beyond what can easily be repaired. Replacing a damaged fence can help save you more money down the road.
Broken or Missing Boards
Broken or missing boards are one of the most visible signs that a fence needs to be replaced. Not only do these damaged pieces affect the appearance of your fence, but they also compromise its safety and structural integrity. Should harsh weather or a storm roll in, your fence could be at risk of falling and damaging your landscaping and anything else that may be in its way.
Holes in the Wood
If you notice holes in the boards of your fence, do not let their small size fool you. They are most likely caused by insects, wildlife, or microorganisms. By the time you notice these holes, it is almost a definite sign that there is much greater damage that you can't see yet.
Splintering
Splintering is another small sign of a big problem. Cracks and splits indicate that the wood is deteriorating and weak, and will most likely begin falling apart in the near future.
Staining
Yellow or gray stains on your fence are tell-tale signs that the wood has started rotting or molding. This problem is particularly common in areas with a lot of rain, though is not uncommon in dryer areas. When it is time to replace your fence, consider using treated lumber, which is more resistant to rot and mold.
Leaning Fences
Unfortunately, a fence that is leaning cannot be fixed by simply straightening it back up again. Leaning is usually caused by the weakening of the fence posts and is just the first sign of more trouble to come. The longer you wait to get your leaning fence replaced, the higher chance your fence has of developing warped or broken fence boards.
Repairing vs. Replacing
If the damage affects only a small area of the fence, it is sometimes possible to revitalize the fence by replacing a few of the affected boards and posts. While this may seem like a cheaper alternative to a full replacement, it is important to consider your long-term costs. Problems due to age and general wear and tear will continue to affect the remaining boards that haven't been replaced. In many cases, you will end up spending more to repair multiple sections again and again than if you had simply replaced the entire fence, to begin with.
Wood Fence Maintenance
First impressions are important, and your fence is often one of the first things visitors see. Adding a fence to your home immediately adds value to your home, but not without the proper care. The fence you choose and how you take care of it says a lot about the pride you take in your home. Just like almost anything else, fences, especially wood fences, get old and can become damaged. Luckily, there are several things you can do to extend the life of your fence.
Clean the Fence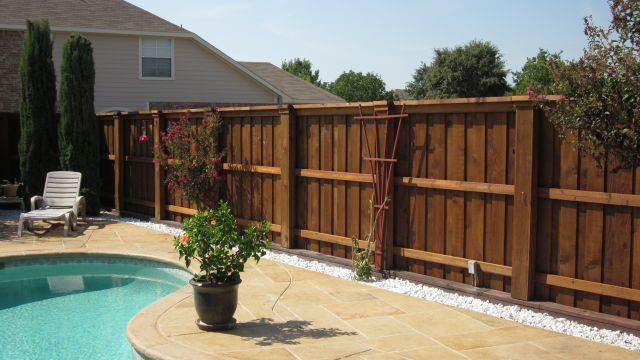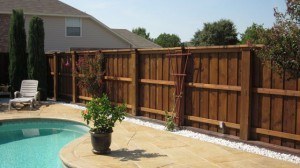 When you keep your fence clean, you have the best chance of seeing any underlying problems such as weathering, splintering, mildew, or the symptoms of insect infestation. Before you clean your fence, make sure you understand what kind of solution you can safely use on your fence material. Synthetic materials like vinyl may react poorly to harsh cleaners, while unsealed wood fences might absorb a cleaning solution that could dry out the wood prematurely. Once you know which solutions you can safely use, consider renting a power washer to make quick work of the project.
Clear Debris
When maintaining your fence, you want to get rid of any grass or weeds that are growing directly under the fence or too near to the bottom. Grass and weeds create a dark, moist environment that can lead to mold growth and wood rot. Use a weed eater to remove weeds and grass that the lawnmower can't reach. Holding the weed eater at a 30-degree angle, start at one end of the fence and move it from side to side until you've removed all of the weeds and grass.
Learn More: Cut your Grass Without Damaging the Fence
Remove or cut any loose or low-hanging tree limbs that touch or are close to touching your fence. Getting rid of these branches ensures that they don't rub up against the fence or damage it during a severe storm.
Check for Signs of Weathering
Once the fence is thoroughly clean, inspect it on both sides for signs of weathering. The sun's UV rays are harsh on fences and can cause a lot of damage. Look for areas where the paint or finish is peeling and where the sealant has been removed. Check for signs of wood rot or damage from termites or other insects including rotten or decaying wood and weakened fence posts. Inspect fence posts and panels to ensure they are stable. To do this, grab each post from the top and apply pressure to all sides. A secure post won't move under pressure. If it does move, it should be repaired as soon as possible. Finally, pound down any nails that may have popped up due to wood expansion. Sand down splinters and brush on a layer of sealant to finish the job.
Re-Stain
If your fence is looking run down, it might be time for a fresh coat of stain or paint. Contrary to what many may think, however, this step is not just for aesthetic purposes. The staining process not only makes the fence more visually pleasing but also helps increase its long-term durability. Staining your fence provides a layer of protection against the outdoor elements, guarding your investment for as long as possible.
Tip: Re-staining can be an arduous task. For it to be most effective, it must be done properly and thoroughly. While it is possible to do this project on your own, it is far more efficient and beneficial to hire a professional to do the job.
Upkeep and Pricing
When choosing a fence for your property, don't forget to consider the upkeep and maintenance the fence will need. Choose the material that will be easiest for you to maintain over time and fit your needs. Wrought iron fences are easy to maintain and long-lasting, however, they don't provide as much privacy as wood fences. Wood fences are solid, strong, and private, but they do require a little more maintenance. Consider not just the cost of the fence itself, but the cost of its maintenance as well. Weigh your options and set your priorities. Know what your budget is and find what fits into that category. If you still aren't sure, a quality fence contractor can help you choose the right material and style for your home.
Fences are a great way to bring character and charm to your space, while also providing protection and privacy and increasing your property's value. When it comes to choosing the fence that is right for you, make sure you know what your options are and what it takes to care for each. With the various styles and options available to you, you and your family will be able to enjoy your home for years to come.
Request an Estimate Today
Now that you're thinking of the main types of outdoor structures
and their uses, you can create a concept that works for your
family. Keep in mind the purpose of the structure, whether natural
light in your home is a factor, and where you want the focal point
of your backyard to be. Once your gears get turning, reach out to
request an estimate on your concept.