Local Reviews
for Lantana, TX
Texas Best Fence & Patio
Rated
4.9
out of 5 stars based on
8
customer reviews
---
Started on scheduled day, built an excellent fence and left everything clean and in good shape.
Dan

-

Lantana

,

TX

76226



Review of
Texas Best Fence & Patio
---
Great service!!!
James

-

Lantana

,

TX

76226



Review of
Texas Best Fence & Patio
Ali and Sergio were the best. Very professional and did an outstanding job on my new deck. I have more work to be done and will definitely use Texas Best again. I have already told a friend and they plan to use them too
---
Patio/Arbor
George

-

Lantana

,

TX

76226



Review of
Texas Best Fence & Patio
Great staff, great quality and listened to exactly everything we were looking for.
---
Fantastic Experience!
Cheri

-

Lantana

,

TX

76226



Review of
Texas Best Fence & Patio
My husband and I absolutely love our new backyard! Colby and his crew at Texas Best Fence designed and executed exactly what we were hoping for! Plus they are just awesome to work with. We can't say thank you enough!
---
Great Quality Fence
Cassy

-

Lantana

,

TX

76226



Review of
Texas Best Fence & Patio
The experience with my Sales Rep was excellent. She was extremely helpful and responsive. The quality of the fence was superb. I basically only had one issue. We ordered an iron gate to go across the driveway. It was not installed when the fence was installed. I did not receive notification telling me when the gate would be installed and no one was home when it was installed. They installed the gate to swing out and we wanted it to swing in so that if two cars arrived home at the same time one wouldn't have to wait in the street while the gate was being opened. This wasn't specified in writing ( contract didn't specify swing in or out) so I had to pay an additional $250 for the crew to come back out and change the swing of the gate. I think the amount was unreasonable and the issue could have been avoided if we were notified of the time of install and had someone there with the crew.
---
5-Star Excellence Beginning-to-End
Tom

-

Lantana

,

TX

76226



Review of
Texas Best Fence & Patio
Hassle-free experience with a flawless product delivered; Texas Best Fence installed a 7' Cedar, Pre-Stained, Board-on-Board Privacy fence over just a couple days (which included removing & hauling-off the old fence). Lily helped me from their office, & Sergio was their foreman onsite; both are spectacular employees! They answered all my questions & were 100% professional. I believe that "you get what you pay for," and doing business with Texas Best Fence is exactly why I believe that. I would recommend anyone I know to go with Texas Best.
---
Responsive, Quality Customer Service a Year Later
Lee

-

Lantana

,

TX

76226



Review of
Texas Best Fence & Patio
I wanted to let you know how pleased I am with the service I received recently from your company. I have a Texas Best Fence that I am very proud of. I've had It for a few short years and it looks great. Jeff Richards was instrumental in the installation of the fence and he and crew did a superb job. About a year ago, it became necessary to make the entry to my back yard larger so, after a bit of deliberation, someone from your company came out and made one of the gates 20" wider to accommodate my large trailer. This has worked great but over the last several months, this very heavy gate has sagged to the point that I could no longer operate the latch. I called your office last week (Lilly) and asked if it was possible that someone might stop by and have a look. She put me in touch with Ron who offered to stop by the very next day. He called with a report that sounded like this might be a pretty difficult fix but that he had an idea. I didn't feel great about the prospects. When I got home after work, I was so please to find that the gate had been expertly and substantially repaired. It was obvious that Ron had not provided a cosmetic fix but rather a professional repair job that is surely to last for many years. Thanks to you and your team, and Ron in particular, for a job well done. Sincerely, a very satisfied customer, Lee Sampson
---
Great prompt service, Great Price!
Reece

-

Lantana

,

TX

76226



Review of
Texas Best Fence & Patio
We had an issue with our fence and contacted Texas Best Fence. They came out within a couple of hours of our inquiry to give us a free estimate. We agreed on pricing and Colby had a crew out the next day to fix our fence. I would highly recommend Texas Best Fence. Colby came by the following day to check on us and make sure we were happy.
---
Response from Texas Best Fence & Patio:

Reece, Thank you for the opportunity to serve you and your family. If you need anything in the future, please call me.
---
Colby C.
Checking in on a previous customer and looking at their patio cover.
Near

Briscoe Dr,

Lantana

,

TX

76226
Sean M.
Repaired fence due to a storm
Near

White Birch Trail,

Lantana

,

TX

76226
Colby C.
Replacing an 18 year old fence.
Near

Watson Rd,

Lantana

,

TX

76226
Colby C.
Fence repair after the storm
Near

Bayberry Ave,

Lantana

,

TX

76226
Julio R.
Storm damage fence repair
Near

Meadows Ave,

Lantana

,

TX

76226
Dustin E.
Arbor repairs, stain, and polygon installation.
Near

Justin Rd,

Lantana

,

TX

76226
Dustin E.
Wash and stain completed on fence and garage doors.
Near

Justin Rd,

Lantana

,

TX

76226
Dustin E.
Completed fence stain and post repairs.
Near

Justin Rd,

Lantana

,

TX

76226
Dustin E.
49' board on board with retaining wall completed.
Near

Justin Rd,

Lantana

,

TX

76226
Dustin E.
49' of board/board fence completed with retaining wall.
Near

Justin Rd,

Lantana

,

TX

76226
Outdoor Living Projects
Outdoor Living Contractor in Lantana TX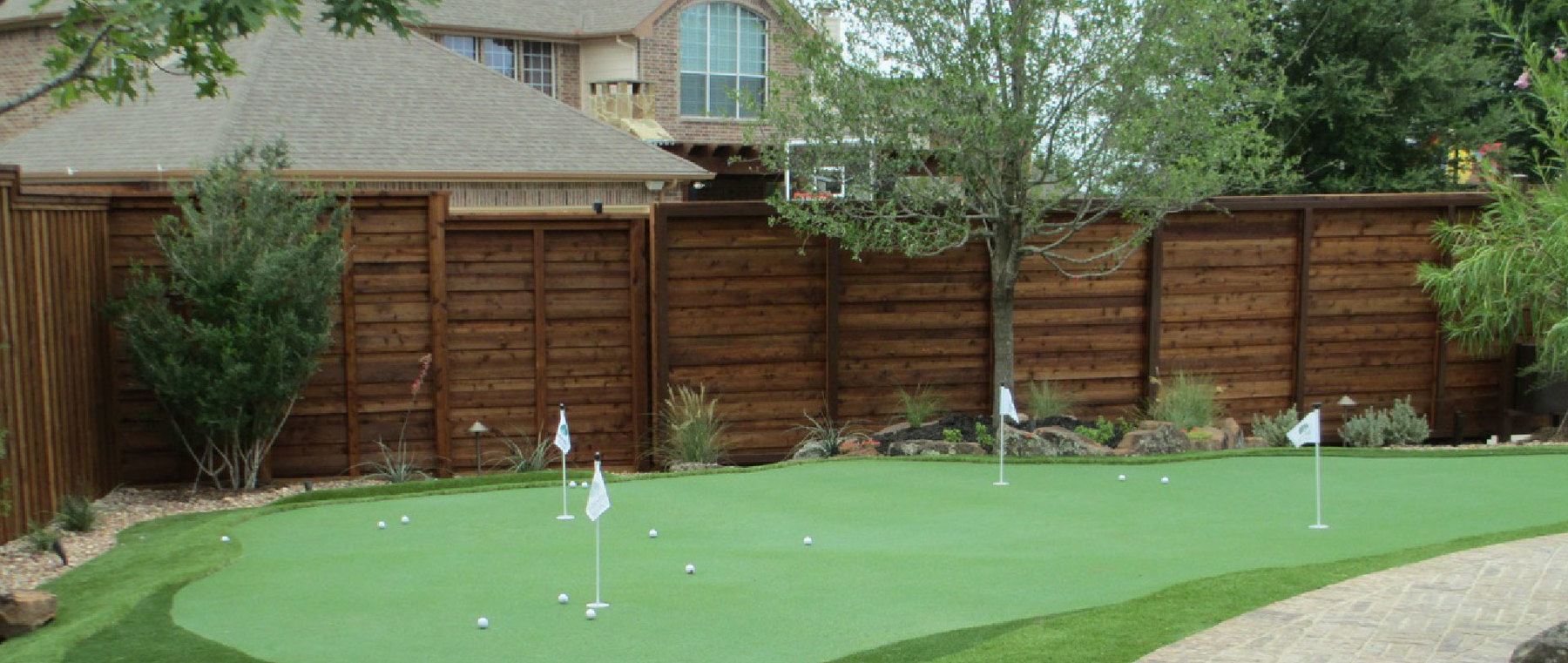 We specialize in custom wood fences designed to complement the look and feel of your property. We prefer to install metal posts set in concrete for support, but we can also use wooden posts as your budget and desires dictate. If you're not sure what you want, we suggest a beautiful pre-stained cedar wood fence that will last for years.
Other materials that are requested by homeowners are also available, but Texas Best Fence will always talk honestly and fairly about methods and materials that should be avoided or require special treatment. Although wood is and always has been a natural product, there can be a great difference in the quality of wood for outdoor use. Some wood types are just better suited to natural weathering processes than others.
A wood privacy fence can also increase the value of your property. If you've decided to fence your yard, make sure that you know the fence height rules for your area.
If you live in a subdivision or a development, check the deed restrictions before choosing a fence. Most subdivisions have rules and regulations regarding the materials and height of fences. Some don't allow fences in the front but allow them in the backyard.
Your neighbors are another important consideration. A boundary fence may be a shared responsibility with your neighbor. Check the laws pertaining to property fences before going any further. Once you're sure about the rules and regulations, it's important to talk to your neighbors that may be affected by a new fence. A sit-down meeting usually works better than a letter to keep communication open and friendly.
Let's say everything is a go and you're ready to decide on the type of fence you want for your property. Choosing the height of your fence might be a hard decision. Here are a few guidelines you can start with.
3 feet – front yard
6 feet – backyard
8 feet – deer fence
The height of your fence will likely depend on your family's lifestyle, needs, and budget.
Contact us today to schedule an appointment for an estimate at your home in one of the neighborhoods of Highland Village TX.