Outdoor Living Concepts with the Most Impact
By Colby Coward / September 5, 2018
---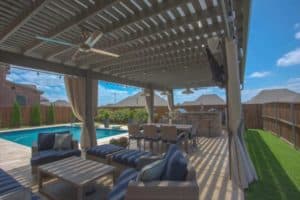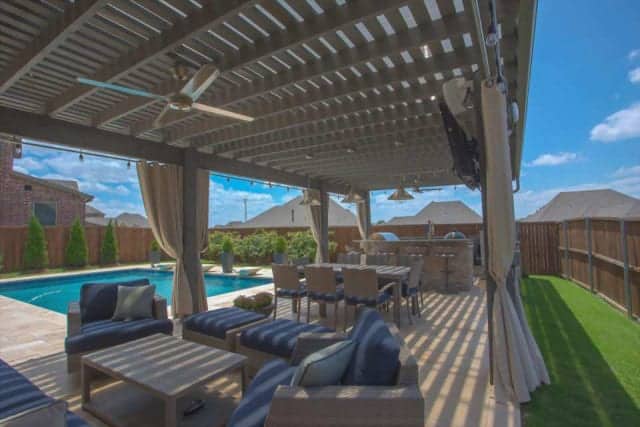 Your backyard doesn't have to be just for summer use. It can be an outdoor living space for relaxation and entertainment that can be used any time of the year and in any kind of weather. With these innovative outdoor living concepts and tips, you can turn your backyard into a year-round retreat for you and your family and guests to enjoy.
Table of Contents
Patio Covers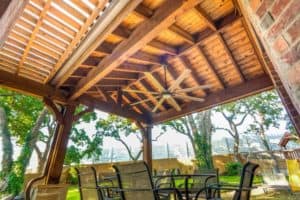 Building a patio is a common way to extend your home into the great outdoors. But outdoor living can be challenging, even with a patio or deck, especially when it's too hot or raining outside. That is why patio covers are such a great addition when it comes to utilizing your backyard year-round.
Patio covers provide shade and shelter from the elements while still allowing you to enjoy nature. By using easy-to-maintain materials and adding fans or outdoor heaters, your space becomes usable no matter the weather or season.
Outdoor Kitchens
Outdoor living would simply be spending time outside if you did not have other ways to enhance your experience. Why not take things a step further by adding an outdoor kitchen and entertainment area?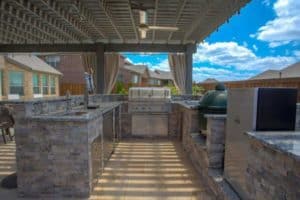 Outdoor kitchens are the perfect way to get the full outdoor living experience. They provide a way to entertain and enjoy your backyard year-round, without having to make multiple trips in and out of the house. With an outdoor kitchen, you can stay in the middle of all of the action and conversation, and save time and energy when it comes to entertaining.
Outdoor kitchens are typically covered and can be as simple or as elaborate as you want them to be, depending on your preferences, the size of your space, and your budget. Some popular features for outdoor kitchens are:
Built-in Grill
Mini or Full-Size Refrigerator
Storage
Food Prep-areas
Built-in Sink for washing food and dishes
Mini-bar
Arbors and Pergolas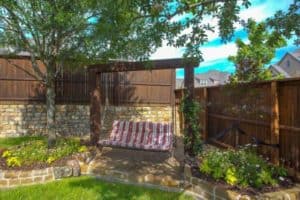 Arbors and pergolas can come in a variety of shapes, sizes, and designs. They provide protection from wind, intense sun, and light rain. They also help maintain the beauty to your space with plants and architectural details. This is a great way to add additional areas to your yard for seating or focal points separate from a deck or patio connected to your house.
Fireplaces
Outdoor fireplaces can be simple or elaborate depending on the city ordinances in your area and your personal taste and preferences. They are a cozy and inviting way to extend the use of your outdoor living space through any season.
Fireplaces are available in a variety of materials. They can be built with metals like bronze, steel, and copper, to built-in stone or brick. Linking a fire pit to a patio and creating a comfortable seating area around it is one way of extending the use of your outdoor living space. Fireplaces create space for a romantic night under the stars on a summer evening, a cozy retreat to relax in during the cool autumn days, or a quiet winter night roasting marshmallows with the kids. They add an inviting element to your outdoor living space that is both functional and beautiful.
Decks
Adding a deck to your backyard space is a great way to create usable space for entertaining your friends and family. Not only does it increase your home's value, but it also highlights the great features of your backyard. Decks are easy and quick to build and give you a defined space to relax and wind down. They can be used to house an outdoor kitchen or seating area. Decks can be fully screened in, covered with an awning or arbors, and even heated with solar panels or commercial outdoor heaters. Whether you choose a wood or composite deck, there are many options to fit your style and preferences.
Create the Space You Want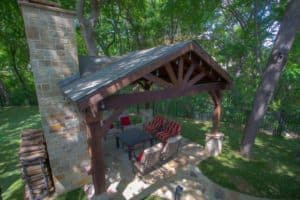 Being outside provides many benefits, from boosting your mood, to increasing your levels of vitamin D. You could go for a hike, do yard work or play a sport to spend time outside, but in our busy world, sometimes it's nice to just have a place to rest. Having an outdoor living space where you can relax, spend time with your family, and host and entertain friends will encourage you to spend more time outdoors. If your outdoor space is inviting, you're more likely to use it for occasions both big and small.
Define Your Space
Defining your space means creating a distinction between your outdoor living space and the rest of your yard. You can usually accomplish this with subtle outdoor living concepts rather than big, bold structures. A flower bed, for example, or a stone retaining wall, rather than a full-scale wall, can be easy ways to set your space apart. An outdoor rug and seating arrangement can give your space a secluded, intimate feel. On a larger scale, a pergola, a deck, or a patio cover can help differentiate your outdoor space from the rest of your yard.
Make It Comfortable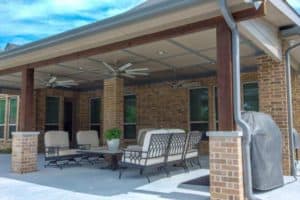 One of the components of an outdoor living space that will ensure you use it is the comfort factor. Comfort may mean shade on sunny afternoons or overstuffed cushions on your outdoor furniture. Maybe there is an ottoman at your feet, or a hammock hanging up for reading or napping on a lazy, summer Sunday afternoon.
If you live in an especially warm climate, you might also consider misters or fans to cool things off. Just because you are designing an outdoor space doesn't mean that it can't be comfortable. Think about what brings comfort and relaxation to you, and plan your space around those elements.
Light It Right
If you plan on spending time outside in the evening, lighting is essential. Because full lighting can attract insects, an option that appeals to many people is string lighting. String lighting is not overpowering and can maintain the ambiance while still allowing you to see what you're doing.
Another popular option for patio lighting is lanterns. Like string lights, they are a gentle light source. They also make lovely centerpieces and can be lit with candles or battery-powered lights. Whichever option you choose, lighting your space is important, and gives it just what it needs to be functional after the sun goes down.
Furnishing for Form and Function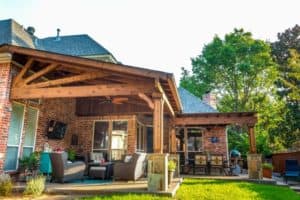 Furniture can make or break your space. Attractive furnishings will attract people, but furniture should serve both form and function. Your furniture should be inviting and serve a specific purpose, whether it's creating a conversation pit, offering you a place to enjoy that first cup of coffee in the morning, or providing seating for you to serve a seven-course meal to friends. Think carefully about how you want to use your space before shopping for furniture, and plan accordingly.
What Will Attract You to the Space?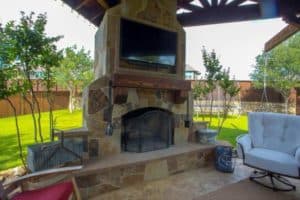 It is essential to consider the components of an outdoor living space that will make you want to use it. Consider a fire feature where you can sit and chat with a glass of wine or roast marshmallows, or a grill or full-scale outdoor kitchen for preparing meals for family and friends. You could even add small touches, like a water feature to provide a soothing background sound.
Creating an inviting outdoor space helps ensure that you will use it. These components will help you create a place where you'll want to spend your time. These outdoor living concepts will add years of enjoyment for you, and added value to your home.
Read More: Great Outdoor Improvements with a Big ROI
A home is not just the four-walled structure you live in. It is also the outdoor areas that surround it. By investing in the right outdoor living concepts when designing your backyard landscape, you can extend the amount of time you spend in your outdoor living space. So if you are looking for ways to expand your living space to the outdoors for year-round use, consider any or all of these options to create the tranquil, outdoor living space of your dreams.
Request an Estimate Today
Now that you're thinking of the main types of outdoor structures
and their uses, you can create a concept that works for your
family. Keep in mind the purpose of the structure, whether natural
light in your home is a factor, and where you want the focal point
of your backyard to be. Once your gears get turning, reach out to
request an estimate on your concept.