How to Make an Outdoor Kitchen
By Colby Coward / December 17, 2021
---
Estimated reading time: 8 minutes
So you have a lot of outdoor space and don't quite know what to do with it. Have you considered an outdoor kitchen? Outdoor kitchens are handy for improving the design of your house and innovating get-togethers with friends and family.
Texas Best Fence and Patio is known for standing out among other companies when it comes to building and repairing wood fences, but that's not all. We also have other utilities for outdoor spaces and the best advice on building the ideal kitchen for you and your family/friends. Here are some helpful tips on how to make an outdoor kitchen, so that you will upgrade the enjoyment, usability, and appearance of your home. Let's begin!
How to Make An Outdoor Kitchen
The first thing to consider is the space where you will build your outdoor kitchen. If you want more convenience and comfort and are working with a tighter budget, a kitchen closer to the house might be the best option.
That is because you won't need to install too many utilities, as you work with shorter hardscaping and can use your house walls as back support for the countertop and built-in installations. Also, you can easily rely on the indoor kitchen for appliances, dishes, and any extra storage.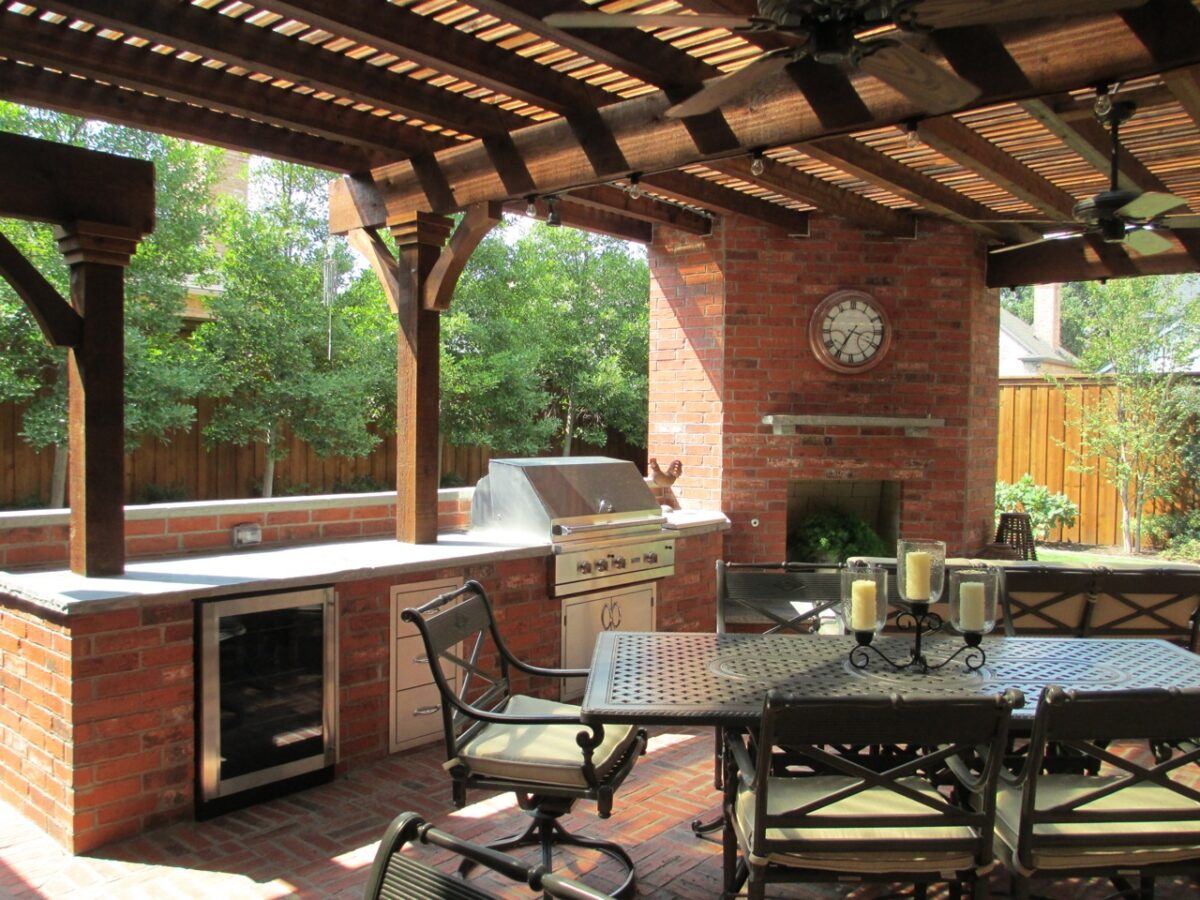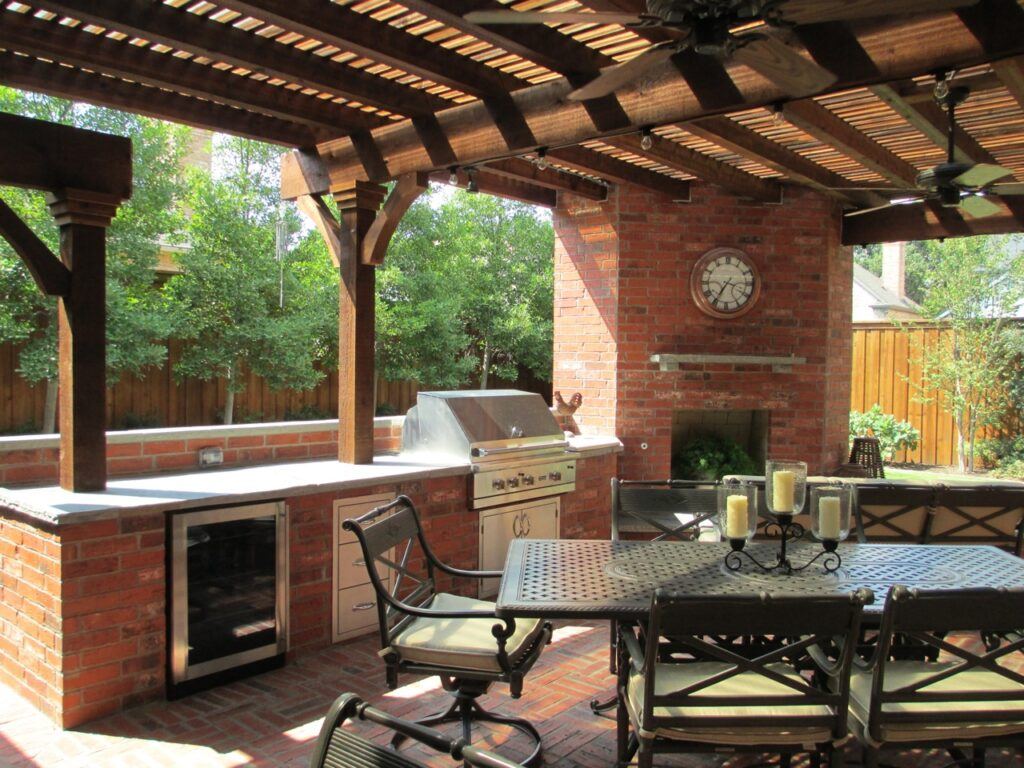 A kitchen that is further away from the house might need a larger budget. You will need to build a more complex structure, with a patio, walls, fences, and more extensive water lines, gas lines, and electrical wires.
Yet, remote location kitchens are great for the usability of your outdoor space, giving you more freedom to play with your kitchen design. If you have a big backyard (with maybe a pool), these kitchens will complement its appearance and bring comfort to your family weekends.
Select Your Outdoor Kitchen Equipment
There's a variety of equipment and accessories to choose from when it comes to designing your outdoor kitchen. These days, it's incredibly easy to select great options that fit your needs and budget. Typically, the centerpiece of your outdoor kitchen is the grill. You can choose from top-quality, professional-grade grills that cook with gas, electricity, wood, and charcoal. There are even hybrid grills that cook with all of them.
Other cooking equipments such as cooktops, side burners, smokers, rotisseries, griddles, deep fryers, and wood-fired pizza ovens are great to implement into your design as well. If you want refrigeration, under-counter refrigerators and freezers, ice makers and bins, beverage coolers, wine coolers, and kegerators for tap beer are available. You can also consider some practical options like dishwashers, sinks, mixers and blenders, warming drawers, storage drawers, cutting boards, trash bins, and lighting.
Select Durable Materials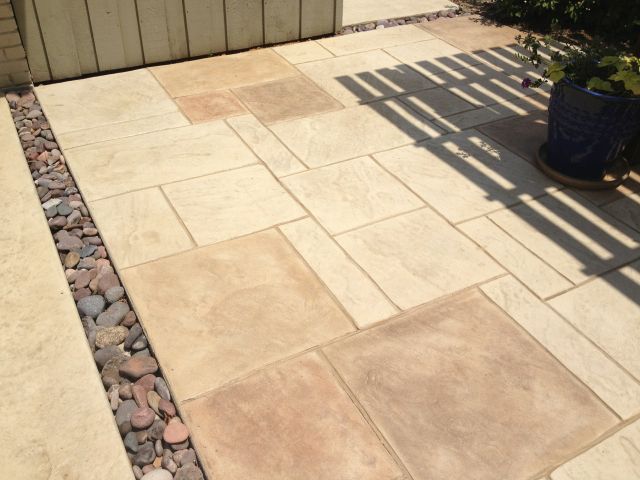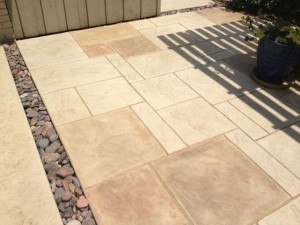 Flooring – Choose a durable, easy-to-clean flooring material like concrete, brick, natural stone, or sealed wood that will resist spills and stains from food and drinks. For extra protection on concrete and natural stone, use a protective sealer.
Cabinet Materials – The framework of your outdoor kitchen can be covered with concrete, stucco, brick, natural stone like marble, granite, limestone, slate, river rock, and flagstone, wood, or stainless steel. When choosing cabinet facings, select materials with easy-to-clean finishes and colors that complement your home's architectural style.
Countertops – Countertops for your outdoor kitchen can be made from natural stone like granite, marble, and slate. Materials like cultured stone, concrete, brick pavers, ceramic tile, and stainless steel are also available. Select countertop materials that are easy to clean and maintain in outdoor weather conditions.
Provide Overhead Shelter
You want to make sure you get maximum use and year-round enjoyment of your outdoor kitchen. Make sure you provide overhead shelter against sun, rain, and wind. If your kitchen is located on a patio or deck next to the house, you can extend your roofline with a patio cover. If your kitchen is away from the house, consider a free-standing patio cover or pergola.
Define The Style
The next step is to define the style of your kitchen. There are many different outdoor kitchen designs you can draw inspiration from. From traditionally rustic decorations to more contemporary and creative setups, you will find what you want.
Study the design and style of your home and try to maintain specific patterns when working on your outside kitchen, especially if you are building it closer to the house.
It is also essential to think ahead about the configuration of the countertops and structure. The most famous and practical formats are L-shaped, U-shaped, Linear, or Island kitchens. Again, consider the space you have available, your budget, and how you would like to style the kitchen and the living space around it.
Island configurations take up more space but look incredibly charming. Linear and L-shaped kitchens are more practical to build and work with.
When building your kitchen, think about what you want. Are you hosting large parties with friends or looking for cozy evenings with your family? Or maybe it is both?
Things to Keep In Mind
It would be best to consider certain essential aspects when designing your outdoor kitchen. Installing a sound ventilation system to avoid fires or excessive smoke is crucial. Many people tend to disregard it since they are outdoors, but they are of extreme importance.
Also, invest in durable material for the structure of your kitchen. It will have to endure the outdoor climate over the year and its usage from cooking. Your floors and patios should be made of easy-to-clean materials that can withstand different weather conditions.
Our patios and pergolas here are Texas Best Fence and Patio are carefully crafted to fit your space and needs. They come in different shapes, sizes, and colors to attend to your style and preference.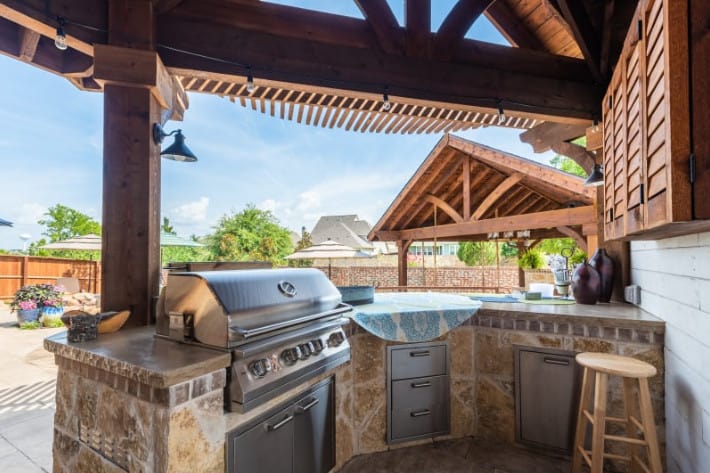 Your cabinets and countertops should also be made from natural materials that won't wear off from exposure to the outside. You can make them the same as your floors or some other texture that will complement them.
If your kitchen is being built in a remote location, hire a contractor so that everything can happen without any complications.
Invest in an excellent material to build your roof, something that, like your floor and cabinets, will be able to withstand heavy rain and wind, and even snowstorms.
For remote-location kitchens, installing fences is also crucial for guaranteeing privacy and protecting the space from animals and bad weather.
Must-Haves
With the configuration and style of your kitchen in mind, it is time to install the essentials for making it practical and usable.
Invest in different sets of lighting, installing task lights for cooking and preparing meals without brightly illuminating the whole room, as well as mellow, ambient lights on the dining and lounge area.
It would help if you had some vital installations to complete your outdoor kitchen so you won't need to run back and forth from the house to the party. A dishwasher, warming drawer, fridge, and ice maker are four critical aspects to invest in, as well as a high-capacity trash can.
To keep yourself organized, try to have plenty of storage room, with overhead or built-in cabinets, so that you can keep silverware, dishes, and glassware always available, as well as all the necessary cooking gear ready to be used when needed.
The grill is the principal investment needed since it will be an essential aspect of your kitchen and define the quality of the meals you will prepare: do you want an electric or gas grill? Will it be built-in? And what about a side burner for preparing many meals at once?
Analyze your budget and the configuration of your kitchen to make sure you make the best decision.
Some Interesting Add-Ons
Now that most of the essentials have been covered, some exciting add-ons will give it a different personality and style.
A built-in fireplace is an excellent investment to make if you live in an area that sometimes gets cold. It provides comfort, warmth and gives an extra rustic kick to the design of your kitchen. Also, a brick pizza oven to turn your get-togethers into an innovative, fun activity.
Beer taps and bar carts are also great add-ons for having parties with friends. This makes it easier to prepare drinks and have a beer by the pool. Also, how about some installations to create a music space, like built-in speakers?
How to Make an Outdoor Kitchen
When searching for how to make an outdoor kitchen, there are infinite possibilities of trends, styles, and designs to pull inspiration from. We are here to help you cover the basics to create a practical and cozy environment for you and your family/friends.
Contact us for more information regarding price estimates and our service area. We've got the solutions for all your outdoor needs.
Check out our services and projects on our page for more information!
Request an Estimate Today
Now that you're thinking of the main types of outdoor structures
and their uses, you can create a concept that works for your
family. Keep in mind the purpose of the structure, whether natural
light in your home is a factor, and where you want the focal point
of your backyard to be. Once your gears get turning, reach out to
request an estimate on your concept.