If you have a fence around all or part of your property, you want to be sure not to cause any damage when mowing your lawn. A few simple techniques will ensure your investment lasts as long as possible and your landscaping remains pristine.
Set Your Blades to the Proper Height
Begin by setting your mower's blades to the proper height, usually between 2 and 3 inches. If it's a dry season and water restrictions have been implemented, use a taller height to protect the health of the grass. Mow the grass in straight lines, moving from one end of your property to the other. Make sure to keep the mower parallel to the fence without getting close enough to let the blades actually touch it. Ideally, you'll be left with a swath of uncut grass just a few inches wide.
Use a Downward-Angled Weed Trimmer
Weed trimmers use a high-speed line to cut through grass, but powerful weed trimmers have the potential to damage the fence if they're not used properly. Go slowly and use extra caution, keeping the string moving at a downward angle to avoid touching the fence as much as possible.
Install Your Fence above the Ground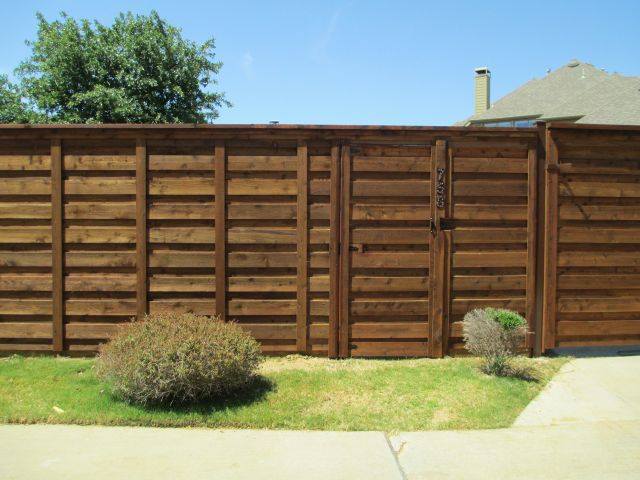 If you haven't installed your fence yet, or you're considering an upgrade, a long-term solution is to leave a space of several inches between the bottom of the fence and the ground. This makes it easy to use a weed trimmer underneath the fence. You'll still need to use extra care around the posts, but the whole job will be faster and easier.
Create a Barrier between the Grass and the Fence
Perhaps the best and most attractive way to mow the grass without damaging the fence is to create a hardscape barrier that prevents the grass from ever-growing along the fence. Using natural or decorative materials, such as mulch or river rock, create a buffer about 3 to 4 inches wide that runs along the perimeter of the fence.
You can also create a shield for your weed trimmer out of metal sheeting, flashing, or corrugated piping.
How to Cut Grass Around Fence
Learning how to mow the grass without damaging the fence is much simpler when the fence has been installed properly. Look for a professional who guarantees proper installation – you want straight, even fencing that, ideally, sits a few inches off the ground.
Over the years, Texas Best Fence & Patio has built, customized, and repaired thousands of wood fences in the DFW area. Our experience means excellence – every time.