Composite Decking Maintenance: 9 Tips for Success
By Colby Coward / April 17, 2017
---
Composite decks, made from plastic and wood fibers, are the most popular alternative to wood decks. If you have a composite deck, you know how it has enhanced your outdoor living space. Composite decking is long-lasting, beautiful, and easy to maintain.
Tips to For Composite Decking Maintenance
Care for composite decking is much less labor-intensive than care for wood decking. Even though composite decking is low maintenance, there are things you can do to keep it in tip-top shape and prolong its life span looking its best.
1. The most important thing is a regular maintenance program. Put deck maintenance on your seasonal calendar so you remember to take the steps needed to keep it clean and ready to use.
2. If your deck just needs normal cleaning to get rid of foot-traffic marks and the usual dirt that comes with the changing seasons, detergent and water will do the job. Simply spray the deck with mild detergent and gently scrub each board with a soft brush.
3. Make sure to rinse thoroughly, removing any standing dirty water.
4. To remove scuff marks or stains left from leaves, a deck brightener that contains oxalic acid will bring back the clean shine.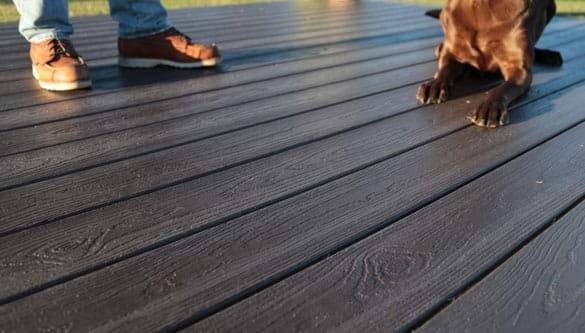 5. Too much moisture may bring about mold issues. Clean the deck with a cup of chlorine bleach added to a gallon of detergent and water to solve the problem.
6. Removing dirt and leaves from the gaps between your deck boards will make it easier to clean and wash away debris.
7. Do you love to grill but don't like the mess it makes on your deck? Protect your deck from grease spatters by placing a vinyl-backed mat under your grill. Easy cleanup will make outdoor entertaining more enjoyable.
8. If you need to remove snow or ice from your deck, always use a rubber-tipped shovel or scraper to avoid scratches.
9. Keep your deck dry and clean throughout the year by sweeping on a regular basis.
What to Avoid in Care for Composite Decking
If you've had experience with a wood deck, you may have used a power washer to get it clean and ready for use. Power washing is NOT a good way to clean a composite deck. It can change the material's surface and may even void your warranty. Additionally, avoid harsh chemicals when washing your deck and stick with mild detergent.
Enjoy Your Composite Deck
Nothing is better than enjoying your outdoor living space throughout the seasons. If your composite deck is properly cared for, you'll probably spend more time enjoying the outdoors and prolonging its life span.
Request an Estimate Today
Now that you're thinking of the main types of outdoor structures
and their uses, you can create a concept that works for your
family. Keep in mind the purpose of the structure, whether natural
light in your home is a factor, and where you want the focal point
of your backyard to be. Once your gears get turning, reach out to
request an estimate on your concept.