Fall is a great time to enjoy the outdoors in Texas! Cooler weather, falling leaves and time with family and friends. Many people associate fall with the ideal time to plant, but it also a good time to consider how you can use your outdoor living space for entertaining. With so many material options available for patio hardscaping these days, it may be hard to narrow down the choices. Each material will have its own pros and cons, along with unique qualities and imperfections that give it character. Here is a little bit about what makes each one a great choice.
Patio vs. Deck
A patio is built at ground level, on a level surface, and typically is constructed of a "permanent" material such as stone pavers,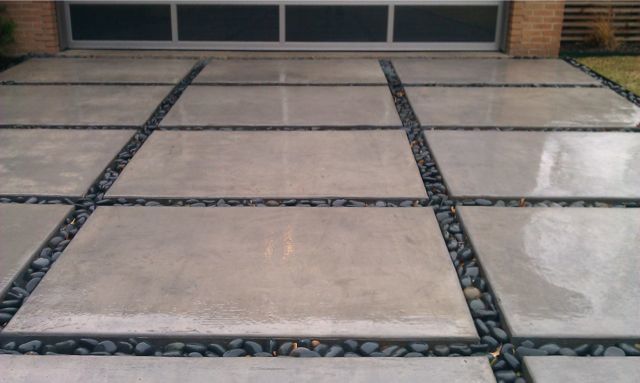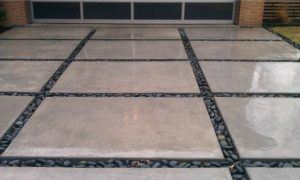 brick, or concrete. A deck floats above the ground, and is supported by footings, at a height of anywhere from a few inches to many feet and can be built on an existing slope.
Design and build: Consulting a professional designer or landscape architect to help you develop a plan and to build it is best.

Wood or composite: We like the natural look of wood, but a high-quality composite material looks great and requires far less maintenance for the long term.
Patios
Flagstone
Flagstone is not the name of an actual rock. Several types of rock split easily to make thick, sturdy, flat paving stones for walkways, gardens and, of course, patio designs. Costs vary by stone, color, quality, and availability. Your choices are generally based on what is available at your local quarries such as:
Sandstone

Limestone

Granite

Slate

Quartzite
Benefits of Flagstone
Flagstone can be machined to make neat squares and rectangles, or left in its natural state to form free-flowing, random patio designs. Flagstone gets its coloring naturally from the rock, so you can find an entire earth-toned rainbow of greens, reds, browns, grays, and even blues.
Natural variations in the stone lend interest and personality to your patio. You can specify that the flagstone is one tone, or accept striations and inclusions. Pennsylvania Bluestone, for example, can layout as a completely monochromatic blue patio, or you can ask for it full-color, which includes the stone's natural range of hues.
Flagstone is extremely durable, and slip-resistant even when wet. Extreme heat and cold do not tend to split paving-sized pieces. Professional installation to ensure a firm bed beneath the finished surface will keep flagstone patio designs looking beautiful for decades.
Drawbacks of Flagstone
Preparing the sand and gravel bed for flagstone is a challenge. Individual pieces may vary by several inches, making perfectly smooth finished patio designs the mark of an expert contractor. For a homeowner who values precision and the feel of a completely flat patio, a flagstone surface may not be ideal.
Flagstone is a natural stone, so it will have variations even when hand-picked for color uniformity.
Concrete
Since concrete is a man-made material, it can be colored and shaped to just about any look. Your patio can be cast as a single pour, with expansion joints built in to prevent cracking. Your patio designs can also be laid out with cast concrete pavers to mimic natural stone.
With the uniformity and regularity possible with concrete, bed preparation and paver installation is straightforward. For the homeowner wanting a flawlessly flat surface, concrete is the material of choice.
Benefits of Concrete
Complete control of color and texture are two major benefits of concrete. With concrete stamping, patio designs can be stamped into the finish while curing. Examples of these patio designs include natural shapes such as wood planks, geometric shapes, or textures that mimic natural stone or brick.
Unlike individually laid stones, a concrete patio will not sprout weeds. When sealed, the surface resists dust and dirt, as well as any natural stone, would.
Drawbacks of Concrete
Stress fractures are the most common complaint about concrete patio designs. With the careful installation of expansion joints, cracking can be minimized.
Concrete's surface can be deliberately roughened to improve traction when wet, but this adds a risk of abrasion if people happen to fall.
Should your patio designs expand or change, a poured concrete patio does not lend itself to easy modification. Flagstone can be added or taken away, but concrete must be broken up with pneumatic tools for haul-out, and new forms set to add surface area.
Flagstone and concrete can both be customized to fit your specific taste and space requirements. No matter which material you choose, you are sure to end up with a stunning space that is ready for entertaining and relaxing.
Decks
Is wood the best material for a deck?
Wood is a great choice for a deck because it's a natural material that complements the surrounding landscape; left untreated, wood decks will fade to a soft silver color. However, we believe the best long-term choice for a deck is a composite material that is made of a combination of wood and recycled plastic.
Pros: Composites are long-lasting, won't splinter or fade, and have coatings that resist stains.

Cons: Engineered products can't be painted or stained. When you pick a color to choose one that will blend well with natural surroundings, with your house, and that you really like!

Paint, stain, or seal: Remember that after you do it once, you'll have to re-apply the finish from time to time. However, the wood will look beautiful.
Should I seal, stain, or paint my deck?
Sealer: This is a transparent finish that won't change the color of the wood and will protect it against the elements. Re-apply every year.

Semi-transparent stain: Will enhance (not change) the wood color and soaks into the grain. Re-apply every two-three years after you notice fading.

Opaque stain: This is more like a paint, this stain will change the wood color. It will protect your wood deck against the elements for up to a decade before you need to re-apply.

Paint: For a deck built with softwood, an exterior paint will provide the best protection against rot, splinters, mildew, or general deterioration. You will need to re-apply every three to five years, depending on wear.
Perk up your Patio or Deck
Is autumn your favorite season? For many people, the fall months mean a resurgence of chillier weather, hoodies, hats and scarves, hot chocolate and lattes and pumpkin spice everything. If this sounds like you, you probably can't wait to break out the fall patio decor. Test your fall decorating know-how with these suggestions for the perfect patio hardscaping and decor.
Dress Up Your Threshold
Flank your front door with large planters full of fall foliage for a stunning look that's sure to impress anyone who arrives at your door, whether they're just stopping by or visiting your home. You can replicate this look out back by arranging planters on either side of any threshold you want to punctuate, whether that's between the patio and the garden, the back door, or the gate. An arbor is another way to welcome guests to your little backyard outdoor haven.
Plant for Fall
Whether you plan your garden with plenty of foliage for each season or fill it with new seasonal plants every few months, make sure you have plenty of fall-themed plants. Squash, zucchini, apple trees, and other fall harvest plants are perfect for your fall garden. There's also a certain appeal to serving up a delicious squash and zucchini recipe or a homemade apple pie right next to the very plant that bore the fruit. Other plants including decorative grass plants go well in fall-themed arrangements.
Decorate with Pumpkins
Nothing says fall better than pumpkin-themed fall patio decor. Cluster them together, line them up or use them to punctuate your garden or pots. You can even pair them with another natural fall decor such as straw bales or fall leaf garlands. The cheerful pops of color will be admired by all your guests.
Brighten Up Patio with Colorful Mums
Chrysanthemums are a favorite fall flower and for good reason. These late-blooming blossoms come in many fall colors, including yellow and red. Plant them in your garden or arrange them in pots to bring bright colors to your fall patio decor.
Decorate with Rustic Containers
Rustic containers are a great way to set the mood for your perfect fall patio. Collect and use things like wooden crates, barrels, bushel baskets and metal pails or watering cans to give your garden a great fall theme. For bonus points, you can decorate with rustic furniture too, such as tables made from giant spools and wooden Adirondack chairs.
Relax in Style
One of the hottest trends in patio furniture is the outdoor furniture. A sofa or daybed can easily be updated for the season by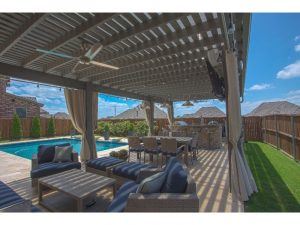 changing out the throw pillows or pillow covers on it. Enjoy the comfort your outdoor furniture offers by using it to read, socialize with friends or just lounge and enjoy the perfect autumn weather.
Plan for Plenty of Fall Color
Of course, hands down the best way to decorate is to use Mother Nature's own decorations. Whether you make your own fall wreaths and garlands or simply plan your yard and garden to make the most of autumn's changing colors, skip the artifice and bring some of these natural wonders into your decor.
Whatever your choice in hardscaping, autumn is full of many rapid changes in weather and foliage. Let these suggestions help you make the most of this beloved time of year by bringing the spirit of the season into your fall patio decor.