Composite Decking
---
Composite decking is a mix of recycled plastic and wood fibers. The advantages of a composite deck is having a product that will last a long time. While composite materials might cost more than wood, there are definitely positive trade-offs. Luckily, composite decking is virtually maintenance free and needs no scraping, sanding, refinishing, or staining.
Talk To A Team Member
---
---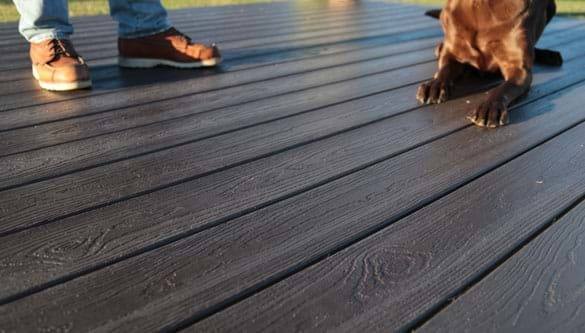 ---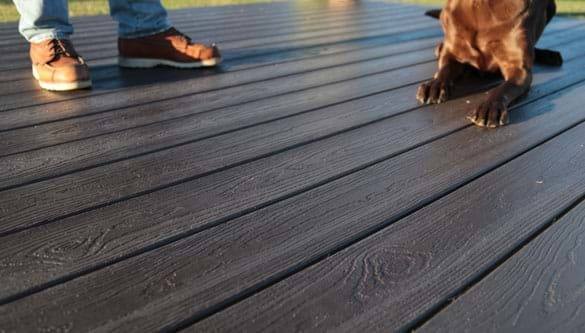 ---
The benefits of a composite deck over a cedar deck or pressure treated deck is that there is no splinters. You can walk around on it barefoot. It's not as hot. It's a great product. When you're also comparing a composite deck against a stamped and stained concrete, in Texas Summers, you cannot walk barefoot around the swimming pool, but with a composite deck you can.
The composite deck brand that we use is TAMKO. One of the benefits with it is the color tone versus ten years ago when they first came out with composite decking, there was only one color. Another benefit is the modern look. A lot of times with composite decking we screw boards in through sidewalls so there are no screws that are actually on top of the boards. It's a very clean look, very modern, depending on color tones.
With composite decking, you can buy a less expensive product, but you're probably not gonna like it two or three years down the road. The big thing is checking to see what kind of product you're getting. You want to know what kind of product quality you're getting. It's just like buying a car. You can buy an entry level Ford Fiesta, or you can buy a Cadillac. We try to find a happy medium between the Cadillac and the Honda Accord, something that's gonna get a lot of mileage, but is also going to give you some luxury.
Ready for a low maintenance beautiful deck?
---