A yard is no longer considered just a piece of property surrounding a house, the scene of an occasional barbecue, or a place to send the kids to play. Instead, Outdoor Spaces have become almost as important as the inside. Today, Outdoor Spaces are designed and executed just as carefully as any room in the house.
If you don't have a usable outdoor living space or want to upgrade the one you have, consider your needs and your overall style. Here are a few questions to keep in mind when deciding which outdoor structure is best.
Do you plan to use the space year round?
If you want to use the space year-round, the design has to accommodate the needs of the different seasons. A solid roof that extends from the house will enable you to hang curtains that will keep out bugs in the summer and add warmth in the winter while setting the stage for a fireplace and comfortable furniture. Pergolas, arbors, and gazebos may be stylistically appealing, but they provide less shelter and are better for days that are neither too hot nor too cold.
Are you going to entertain outdoors?
If you plan to do a lot of entertaining, consider a roofed patio or a large pergola or an arbor. If you have enough room, perhaps combine several different structures for entertaining.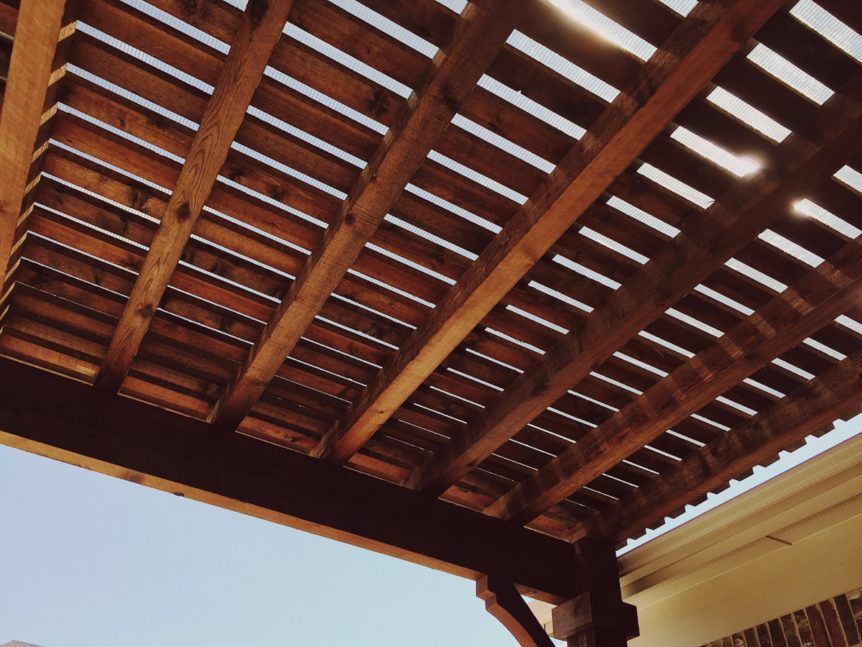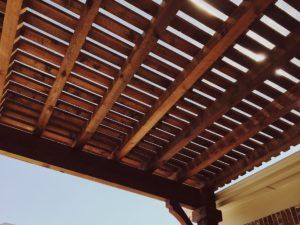 What's the primary purpose?
If the purpose of your outdoor living space is to create a cozy sitting area, a quaint little gazebo or arbor might be just the thing. For a more formal outdoor dining space or to accommodate an outdoor kitchen for entertaining, consider a patio with a roof. It will create the impression that the outdoor area is merely an extension of the house.
Do you have a small yard or a large space?
A small yard might accommodate only one structure, so carefully choose the one that works best for you. On the other hand, a large outdoor space may allow for a few structures: a patio for entertaining, a gazebo, or an arbor tucked away in the garden for more personal pursuits. Using visual and physical techniques such as structures and landscaping will help break up the outdoor area and allow it to flow better.
What goes best with your home and your style?
Sometimes the decision comes down to what looks best with your home's architecture and the style you've used to decorate the interior. A patio with pillars and a roof or a pergola might look better with a modern home; arbors and gazebos lend themselves to more traditional or classic styles.
The choice of an outdoor structure can be as personal as how you decorate your interior. If you feel overwhelmed by the decision-making process, don't hesitate to consult a professional. An expert in outdoor spaces will be able to offer ideas and provide you with the information you need.
What to Include in your Outdoor Kitchen
One of the most significant trends in home design these days has a finished outdoor space. Instead of a separation of "inside" and "outside," it provides a flow that allows homeowners to utilize patios, yards, and gardens to their fullest advantage. One element people have focused on the past few years is the outdoor kitchen. An outdoor kitchen not only is a perfect spot for entertaining, but also an area family can enjoy throughout the year. If you are looking at ideas for what to include in your outdoor kitchen, here are some essential features and tips to get you started.
Begin with Layout and Design
The first step in adding an outdoor kitchen involves research, planning, and design. Every person has different space and requirements. By planning you can fine-tune a vision to best serves your needs. Here are some steps you can take during the design process.
List your needs and wants.

Are you pizza fanatics that need a wood-fired oven, or do you prefer a grill? How often will you use your outdoor space, and how much prep area will you need? Some aspects to consider might include seating, storage, appliances, and materials that work in your region's climate.

Look at complementing the design of your home.

You don't want people to feel as though they've entered an entirely different house when they visit your outdoor space. Look at ways to mimic style and color and bring the aesthetic of your home to the outdoor areas.

Create an outdoor flow.

Consider your outdoor kitchen as a part of the overall outdoor space. If you have other areas like a pool, deck, or garden, you'll want to establish a natural flow. Think about traffic, utilities, and where structures will make the most sense.

Add features that extend your outdoor season.

If you want to get the most out of your outdoor kitchen thinking about adding a fireplace, heaters for cold weather, and shade for warmer weather.

Learn more about our other outdoor construction services here

.

Remember lighting.

Lighting is just as important outdoors as it is indoors. Optimize your lighting choices for both ambiance and tasks.

Use good kitchen sense.

Just like your kitchen inside, your outdoor kitchen should make sense and be designed to work seamlessly. Make sure your cold storage, counters, wet areas and cooking appliances all make it easy to move around and get the job done.
What should you include?
Once you have the design nailed down, it's time to start the exciting part—choosing what to include in your outdoor kitchen. Many designers suggest starting from the ground up. Begin with what's under your feet. Since the area is outdoors, something that holds up to weather and foot traffic is essential. It's important to think about safety and anti-slip surfaces as well.
Next, look into appliances. Typically, the size of your appliances will determine the size of your outdoor kitchen. Most people want a refrigerator, stove or grill and even a dishwasher. Other standard features are sinks, fireplaces, and cooktops.
The last design features are counters, storage, and workspaces. After all the base elements are in place, you can add pergolas, shade trees, heaters, lighting, decor and anything that ties the area together.
An outdoor kitchen adds an incredible feature of your home that will let you appreciate your yard in a whole new way for years to come.
Ideas and Inspiration
Just about everywhere you look these days; you can find a variety of designs for your outdoor spaces – in magazines, your neighbor's backyard, HGTV, and movies. These examples range from modest to extravagant in every style imaginable! The style of your outdoor space is based on several things: your budget, available space, and personal taste. However, your area needs to be functional and fun, and it will require regular maintenance to stay in peak condition.
Functionality
Regardless of what style you choose, you can't forget the big picture: functionality! You should plan to include everything you need to enjoy the outdoors without having to run in and out of the house. These useful items may consist of:
Outdoor Kitchen
Ice chest, cooler or maybe even an outdoor refrigerator with ice maker

Storage space for storing serving ware, utensils, glassware, and cleaning products

Outdoor Dining Space
Pizza Oven

Grill, side burners, outdoor oven, fire pit, or other heat sources

Outdoor bar with a sink, ice bin, and storage for drink ingredients

Tabletop or overhead lighting, outdoor furniture, umbrella, or patio covers
Outdoor Living
Now that your outdoor space is functional consider spicing up the area with some fun elements.
Comfy place to sit and relax – don't forget the pillows!

An outdoor TV specially adapted to surviving the elements so you can keep an eye on your favorite sports teams during the mundane tasks of meal prep. Your guests will love being able to watch the big game, favorite TV series, and family movies in your gorgeous backyard.

Plan an area for a horseshoe pit or pick up a few games like ladder ball or bocce ball that you can store easily in the garage and bring out when the kids and grandkids claim they're bored.
Maintenance
An outdoor space of your dreams is an investment. Of course, it's worth it, but how do you maintain your great outdoor space, so it looks fresh for years to come? A few cleaning tips and regular maintenance tasks can help you keep your outdoor kitchen area stunning.
Use glass cleaner to wipe fingerprints off stainless-steel countertops or appliances.

Use a hard-bristled brush on your grill after every use.

Paint your grill and furniture with a rust-resistant paint for metal that will maintain beauty and longevity.

Degrease burners regularly.

Visually inspect hoses, burners, and valves to make sure they're working correctly.

Use appropriate cleaning products for the surfaces and materials in your outdoor kitchen.

Reseal countertops, so they maintain their stain resistance and don't fade.

Cover surfaces and furniture in inclement weather.
Entertaining
Just because the weather is changing doesn't mean the party has to end. Keep your guests comfortable with these ideas for outdoor entertaining.
Have plenty of seating.

Mix up the seating. Set up a table area, side chairs, and outdoor friendly poufs throughout the space. Places to relax and enjoy will allow your guests to mingle and be comfortable.

Watch the game in comfort.

Make sure your TV area has plenty of room to move around so everyone can see the big game.

Host a dinner party.

An outdoor dinner party is an ideal setting for a fall meal, where food and nature come together. Keep it simple by cooking everything on the grill!

Keep everyone comfortable.

Durable outdoor furniture is made more comfortable with pillows and cushions. Turn on the fan or start a fire in your outdoor fireplace or fire pit. Adding indoor touches to this outdoor room helps your outdoor space feel inviting.

Light things up.

Transform your space and add a bit of elegance with decorative lighting. Add strings of lights to your pergola or hang lanterns from trees to make your outdoor party glow.

Make it a group effort.

Relieve the stress of hosting by making it a potluck party. Ask guests to bring an appetizer, salad, side, or dessert. Then you only have to make the main dish!
Whether you prefer an Old World European-style setting, a cozy Southern atmosphere, or a backyard barbecue pit, your savvy outdoor kitchen ideas will inspire you to enjoy open-air entertaining throughout the year. When you're ready to take the leap and build the outdoor living space you've been dreaming of, contact us! We'd love to see what you're planning and how we can help the project come to fruition this spring or summer. Don't be afraid to let us know if you need tips on how to maintain your kitchen over the years, too. After all, you're going to want to enjoy this outdoor oasis for a lifetime!