Wood Deck vs. Composite Deck
By Colby Coward / January 23, 2017
---
Estimated reading time: 3 minutes
If you're planning to replace an old outdoor deck or have a new deck installed, it's important to decide what type of outdoor deck material to choose. Whether you choose a wood deck or a composite deck material, a deck can add an entirely new dimension of outdoor living to your home.
There are pros and cons to both types of outdoor deck material. Take into account variables such as appearance, maintenance, and durability. The best way to decide which type of material you prefer is to visit your local dealer. Let's take a look at what differentiates the two in the wood deck vs. composite deck debate.
Table of contents
Wood Decks
Wood decks are quite natural and beautiful in their look, feel, and smell. Depending on the type of wood you choose, wood decks are often less expensive than decks made from composite materials.
While wood decking is classic, the downside is the maintenance and upkeep. Over time, whether—hot or cold— can cause a wood deck to deteriorate. About every two to five years, wood decks need to be sanded, cleaned, stained, or sealed depending on the weather conditions. Without this regular maintenance, wood decks will fade and can splinter or warp.
A deck made from wood that is properly maintained can last up to 40 years.
GET INSPIRED: Wood Deck Photos
Composite Decks
While composite materials might cost more than wood, there are definitely positive trade-offs. Luckily, composite decking is virtually maintenance-free and needs no scraping, sanding, refinishing, or staining.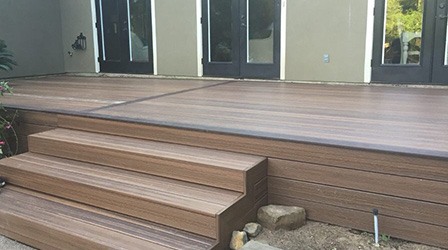 Composite decks are expected to last longer than wood decks. They keep their clean and solid appearance without the care that wood decks require (meaning more time to enjoy the deck). Just clean the composite outdoor deck material with warm soapy water a few times a year and it should remain in good condition.
Decks made from composite materials are stain-resistant and will stand up to any type of weather. Additionally, composite materials are UV resistant; they do not fade and retain their original color for many years. Unlike wood, composite decking material is available in a variety of colors that will add style and design to your outdoor living space.
Wood Deck vs. Composite Deck
At the end of the day, both materials would serve you and your outdoor living space well. Our experts at Texas Best Fence & Patio are able to help you discover what materials can best function with your lifestyle and desired outdoor home aesthetic. Request an estimate from our team today!
Request an Estimate Today
Now that you're thinking of the main types of outdoor structures
and their uses, you can create a concept that works for your
family. Keep in mind the purpose of the structure, whether natural
light in your home is a factor, and where you want the focal point
of your backyard to be. Once your gears get turning, reach out to
request an estimate on your concept.