Outdoor kitchens provide the perfect opportunity for entertaining family and friends in the comfort of your own backyard.
---
Outdoor kitchens are redefining backyard living for households across the country. They provide the perfect opportunity for entertaining family and friends in the comfort of your own backyard. An outdoor kitchen creates an inviting area for relaxing candlelit dinners, exciting pool parties, and fun backyard barbeques year-round. It increases the value of your home, expands your usable space and connects the indoors to the outdoors for a welcoming atmosphere.
Planning for your outdoor kitchen is the first step to a successful project. Before you begin construction, it's important to consider some important factors that will impact your kitchen's use, style, and budget.
Choosing the Best Location
When planning for your kitchen, it's essential to consider your useable outdoor space for the best location. Even a small outdoor space can provide a comfortable area for kitchen essentials. If you have an existing patio, outdoor pavilion, or pool and spa, an outdoor kitchen located nearby can increase entertainment opportunities.
Close to the House vs Remote Location
Where you locate your outdoor kitchen can drastically impact its use, convenience for cooking and entertaining, and your budget. Building your kitchen close to the house provides easier access to your indoor kitchen in case you need extra appliances, cookware, dishes, and storage. This can be extremely useful if your outdoor kitchen isn't fully efficient. Whether you build your kitchen on the side of your house, on your deck, or underneath your patio cover, having it within close proximity to the house definitely comes with its benefits.
When an outdoor kitchen is located far away from the house, it gives you a clear designated entertaining space. Keep in mind that moving it away from the house requires gas lines, water lines, and electrical wiring to be routed to your kitchen space. This often involves a connection to new or existing utilities that will most likely increase your costs, and should always be done by a qualified professional contractor who knows local building codes in your area.
Could your outdoor kitchen use some updates? Download our free guide to help you get started! Get the Guide
Outdoor Kitchen Must-Haves
When it comes to your outdoor kitchen, there are a variety of features, materials, and appliances that can help take your space to the next level. Consider these essentials.
Shelter from the Weather
For year-round use of your kitchen, shelter against heat, cold, sun, rain, and wind is essential. If your kitchen is built next to your house on a patio or deck, it's easy to provide overhead shelter with a roof extension or patio cover. If you choose to build your kitchen in a separate backyard area, you can build a free-standing pavilion or pergola that will provide some overhead protection from the elements.
Learn More: The Perks of Patio Covers & Pergolas
Selecting Kitchen Equipment
Your outdoor kitchen can be designed with a grill and a seating area, or with a variety of other features that take outdoor dining and entertaining to the next level. Whether you want a kitchen with the bare essentials or one with maximum entertaining possibilities, there are a variety of features to choose from. Depending on your available space, lifestyle needs and budget, you can design and build an outdoor kitchen that rivals a chef's dream.
Choose a Grill
The most expensive and major component of an outdoor kitchen is usually the grill. There are top-quality, professional-grade grills that cook with charcoal, wood, electricity, gas, and even hybrid models that convert from one to another. Grills are available with hoods and smoke vents, overhead lighting, and come in various sizes and finishes to fit your space needs and design style. As the foundation of your outdoor kitchen, the grill or cooking element should be chosen wisely.
Keep It Chill
Installing a refrigerator will make cooking and entertaining outdoors even more convenient. Instead of trekking back and forth for ingredients, ice, and chilled beverages, just reach underneath the counter. Sure, a small stand-up fridge will require proper wiring for outdoor use. But it will also provide a handy stock of condiments, ingredients, and cold drinks. Be sure to choose a refrigerator that fits your needs and space requirements.
Clean It Up
Running water is essential to entertaining and cleaning up afterward. For an outdoor kitchen, a small stainless-steel sink provides space for washing and rinsing dishes as needed. This simple convenience will keep the messes outside while cutting back on trips in and out of your house. For household members with a green thumb, an outdoor sink will make gardening even more convenient.
Prepare and Stow
Counter and storage space may not be your first thought when planning an outdoor kitchen project, but they are essential to cooking outside. After all, chopping ingredients and preparing food requires at least a few feet of counter space. These should be durable surfaces that are easy to maintain. You'll also need a place to store food and utensils in your outdoor kitchen. Installing self-locking, built-in storage spaces will protect food, garbage cans, spices, and cooking and serving utensils from pests and the elements.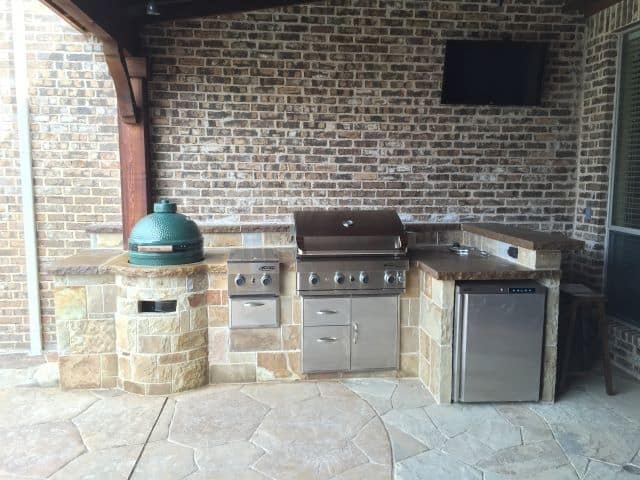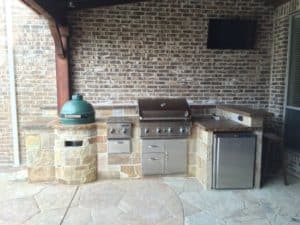 Optional kitchen equipment includes state-of-the-art cooking essentials, as well as accessories that make outdoor dining and entertaining much more convenient. Available kitchen components include:
Under-counter freezers

Ice makers

Wine and beverage coolers

Tap beer kegerators

Dishwashers

Griddles, cooktops and warming drawers

Rotisseries, smokers and deep fryers

Wood-fired pizza ovens
Dine-In
No outdoor kitchen is complete without a welcoming area for entertaining and dining. When planning your entertainment space, think about the weather and climate in your area. Consider the following options:
Weather-resistant chairs and tables

A patio cover to protect against the elements

Bug zappers or other insect-control features

An exhaust system to minimize smoke exposure

Ceiling fans and heat lamps
The best dining area will be on level ground that isn't too close to the cooking appliances, but close enough for convenience. Be sure to choose an area of your outdoor living space with a scenic view that your guests will enjoy.
Select Durable Materials
Your outdoor kitchen will have to withstand the elements, as well as normal wear and tear from cooking and entertaining. It's important to select durable materials that hold up well against spills and stains. You'll also want them to provide easy year-round maintenance and complement your home's design style.
Flooring
Natural materials like stone, brick, and concrete provide excellent protection from heavy traffic and harsh weather conditions. Wood, and porcelain and ceramic tiles offer a variety of colors, patterns, and textures for visual interest. Flooring materials should be easy to clean and maintain. A protective sealant can prevent absorption of food spills and stains. A slip-resistant surface will help prevent accidental falls and injuries.
Cabinets
The cabinets in your outdoor kitchen can be made from the same material as your floors for a unified appearance or a contrasting material that adds a punch of color or pattern. Natural materials like limestone, slate, flagstone, river rock, and brick provide durable surfaces with organic appeal for outdoor spaces. They withstand weather conditions and are easy to clean with a garden hose.
Countertops
The main factors to consider in selecting countertop surfaces is cleaning and maintenance. Concrete, granite, marble, slate, brick, porcelain tiles, and stainless steel are very durable and easy to clean. Soapstone is strong, nonporous, bacteria-resistant and withstands temperature changes. If you select wood countertops, be sure they're sealed to protect against spills, stains, and warping.
Don't Forget the Extras
Outdoor Lighting
You can't design a great outdoor kitchen without proper lighting. After all, you don't want your guests eating in the dark. There are many lighting options available including overhead fixtures and pendants, solar lighting, and decorative light strands. If you plan to cook and dine outdoors, adequate lighting around the cooking and dining areas is essential.
Mood Music
What's a pool party or backyard barbeque without a little music to set the mood? With some wiring help from a professional contractor, you can install a speaker system and even a television that will turn any backyard gathering into a fun-filled event. Late-night dinners on the patio with family or close friends will be more special with soft music playing in the background.
Comfortable Atmosphere
Whether you're planning small family dinners or large outdoor gatherings, it's important to create a comfortable, inviting atmosphere. Select outdoor furniture that's durable and comfortable and make sure you provide adequate seating for entertaining. Consider installing an outdoor fire feature to keep you and your guests warm on chilly evenings. And add some cozy floor pillows for extra seating and casual throws for extra warmth.
Although these backyard basics will provide the foundation for your home's outdoor kitchen, each feature should be adapted to your household's unique needs and preferences. Choose resilient materials that are suited to exterior use and long-lasting appliances that can help kick your cooking up a notch. With the right elements and features, your outdoor kitchen is sure to be a space everyone enjoys.
---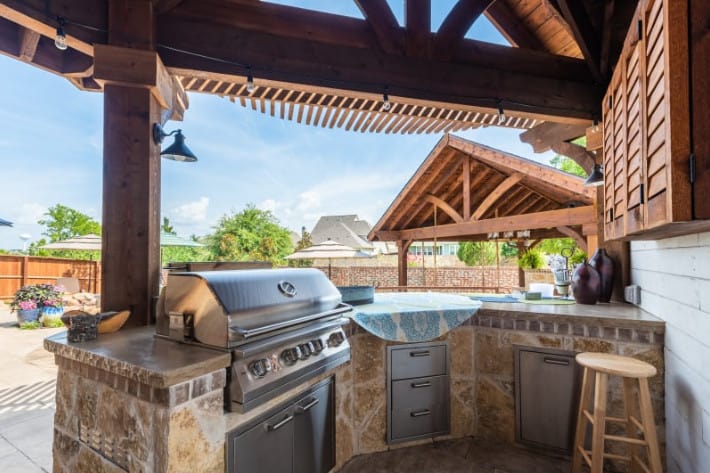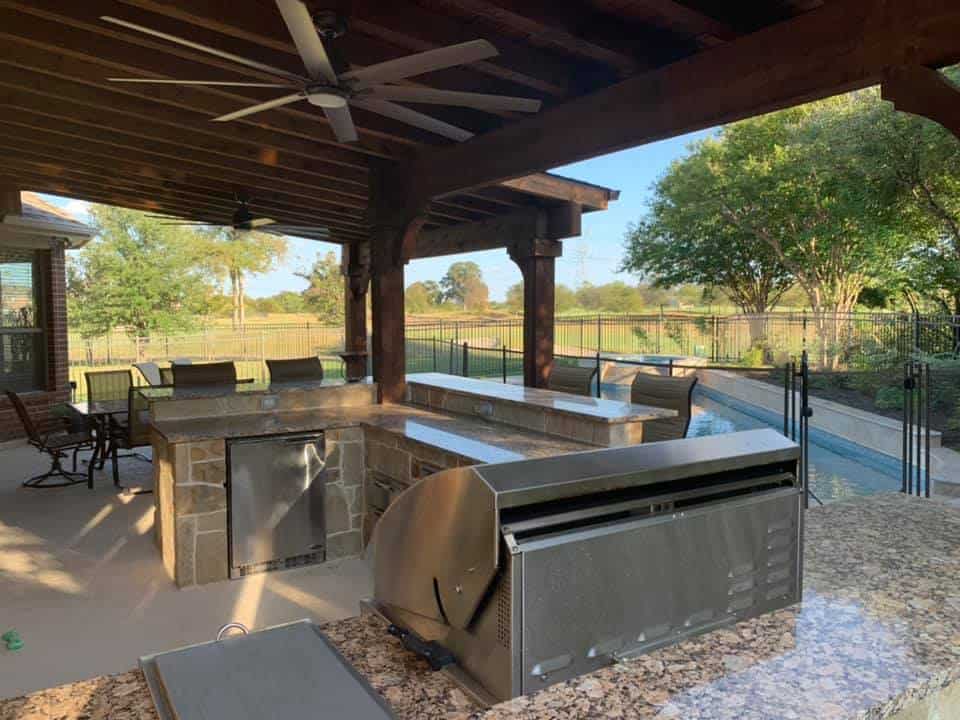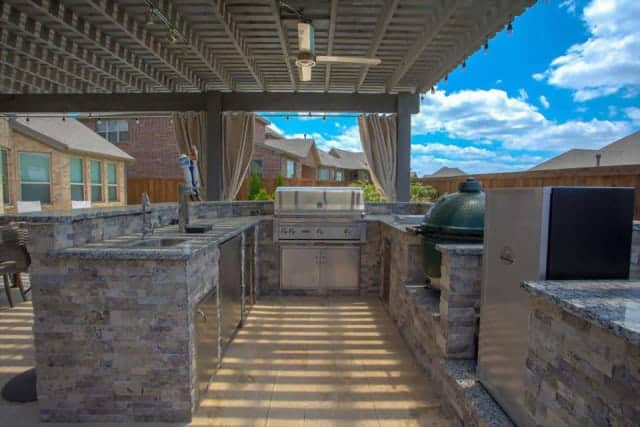 Let us help you bring your outdoor living dreams to life. Browse our Photo Gallery and let your imagination run wild! Ready to get started? Get a free quote today!