Estimated reading time: 3 minutes
When installing a fence on your property, decide the purpose of the fence first. Is the fence for privacy, the safety of children and pets, or to enhance the value and look of the home? This will help you know how to choose the best fence for your yard.
Safety of Children and Pets
If the purpose of your fence is to keep your children or pets in your yard (or to keep the neighbor's pets out of your yard), you can have a fence that you can see through with a wrought iron fence. This type of fence will allow you to have full visibility beyond your yard, but will keep children and pets in, and pests out.
Enhancing the Value of Your Home
If your goal with your fence installation is to enhance the value of your home, you should opt for premium materials, such as wrought iron or cedar. Fences can transform an ordinary home into a majestic, stately one. Your fence contractor will be able to advise you on an appropriate fence selection for your style of house.
Types of Materials Used
There are different benefits for each type of material used for fencing. Here are some of the features to get you started.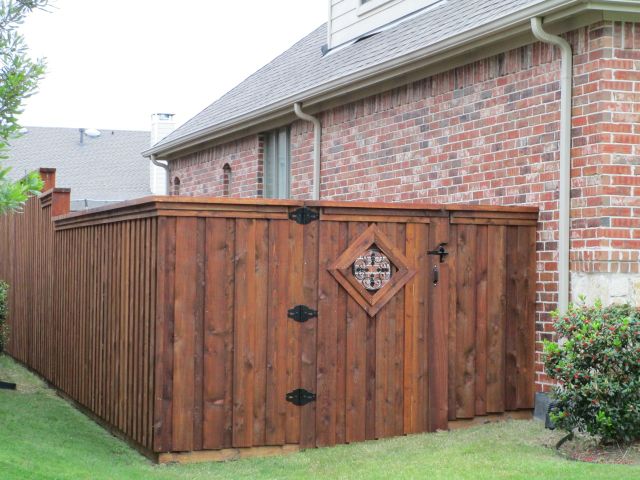 Wood fencing is one of the most popular types of fencing. It can be customized to fit any style, and can be stained or painted. Cedar and redwood are popular woods due to their resistance to wear and insects.
Cedar fences, which provide a pleasant aroma as well as privacy, can be installed around the entire yard, or used to define a specific space. Click here to see some of our custom wood fences.
Pressure treating helps the wood wear better outdoors. Wood is environmentally friendly and if properly made lasts many years. It needs more maintenance and should be cleaned a few times each year, and re-stained every 3-5 years. A wood fence can add excellent curb appeal to any home.
Wrought iron is low maintenance and often just needs an occasional rinse with the hose. It can be used with a variety of decorative styles and adds curb appeal to the home. Repair can be expensive when needed, but typical iron fences last longer than the average lifetime.
Take a look through our Wrought Iron Fence gallery.
Consider Upkeep and Pricing
When choosing fencing for your property consider how much upkeep the fence will need. Choose material that fits your lifestyle. Know what your budget is and find a material that fits into that category. A quality fence contractor can help you choose the right material and style for your home.